Perimenopause is the transitional period women undergo between fertility and menopause. Hormone levels fluctuate, according to the Mayo Clinic, and you often begin to experience many of the signs and symptoms associated with menopause. The time in which it takes to complete this phase in life varies greatly from woman to woman. For some, it takes as little as two years. Others may go through this change for closer to eight years.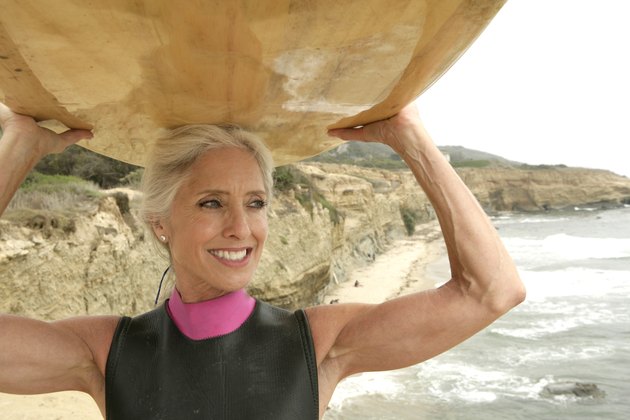 Function
When a woman's body moves toward menopause, the ovaries start to make less estrogen and progesterone than normal with each passing year. This decrease in hormones is gradual, allowing time for your system to adjust. However, your body inevitably responds to this change by manifesting symptoms of the condition.
Symptoms
The most common symptoms of perimenopause are hot flashes and menstrual irregularities, but it isn't unusual to experience other precursors to menopause. Women can suffer periodic sleep disruptions, mood swings and urinary problems throughout perimenopause, according to the National Institutes of Health. There's also the potential for a lowered libido, irregular heartbeat, vaginal dryness, forgetfulness and depression.
Cramping
Though cramping isn't necessarily a symptom of perimenopause itself, women can suffer from a dull to throbbing pain in the lower abdominal region. When you do experience cramps during this time of life, they're typically linked to menstruation, even though your periods have become more sporadic. Much like any other period, perimenopausal cramps are caused by contractions from the uterine walls to shed its lining.
Treatments
According to the Mayo Clinic, you can effectively treat symptoms of perimenopause with an oral contraceptive, like the birth control pill. Not only does it help to normalize menstrual irregularities and lessen the intensity of hot flashes, but birth control can also relieve perimenopausal cramps. Besides this method of treatment, hormone therapy and non-steroidal anti-inflammatory drugs--such as ibuprofen, acetaminophen or naproxen--can relieve symptoms of perimenopause.
Significance
As a woman's body goes through perimenopause, it's important to pay attention to the symptoms. Menstrual irregularities may be common, but extremely prolonged cycles and heavy bleeding can be a cause for alarm. If menstruation lasts for longer than eight days or you find yourself changing sanitary napkins hourly, you should contact your doctor. This may be an indication of an underlying condition other than perimenopause or menopause.