The influenza virus, or the flu, is an infection that attacks the respiratory tract. According to the Mayo Clinic, the most common symptoms of this illness are fever, chills, headache, cough, body aches, fatigue, nasal congestion and loss of appetite. Severe complications of this virus can include pneumonia, encephalitis, ear infections, sinusitis and bronchitis. Fortunately, the flu vaccine has been developed to prevent infection or reduce the severity of symptoms. However, scientists have to develop a new vaccine each year to offer protection from predicted flu strains for the upcoming season. As with all vaccines, you should be aware of the ingredients in the flu vaccine and its possible side effects.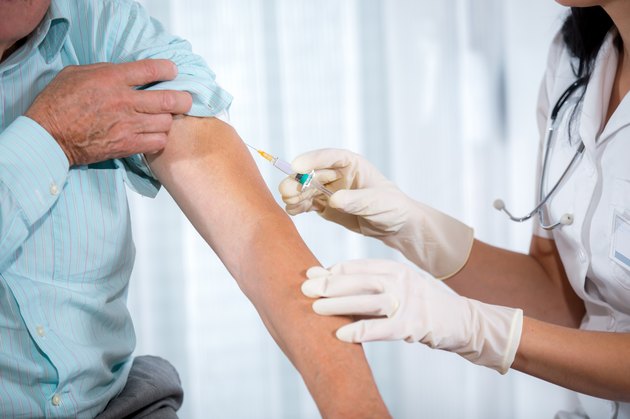 Influenza Type A Antigen
According to Drugs.com, the influenza A virus antigen is an active ingredient in the flu vaccine. This offers protection from influenza type A or results in milder symptoms if you do contract it. An antigen is a bacterium, virus or pollen that triggers an immune response from your body. The antigens in the flu vaccine are inactivated viruses that are effective because they allow your body to form antibodies (chemical markers) against the flu. Once antibodies are formed, they allow your body to fight the infection quicker.
Influenza Type B Antigen
Influenza type B antigen is an ingredient in the flu vaccine, according to Drugs.com. Influenza type B is another virus that routinely affects humans each year. Exposure to the influenza type B antigen will offer protection or reduce symptoms if you are exposed to this strain of virus.
Inactive Ingredients
Inactive ingredients, or excipients, support the active ingredients in vaccines and increase ease of use. These ingredients do not offer protection against the influenza virus. According to the FDA, the inactive ingredients in the flu vaccine are egg protein, formaldehyde, sodium deoxycholate and thimerosal. Two of these inactive ingredients have been suspected of causing adverse reactions.
The American College of Allergy, Asthma and Immunology states that 1.6 percent of children have an allergy to egg protein and therefore might not be able to receive the vaccine—ask your doctor about other vaccination options. Thimerosal is an organic mercury-containing compound that is believed by some to cause autism in children who receive vaccines. The U.S. Centers for Disease Control & Prevention, however, reports that several studies have shown that there is no relationship between thimerosal and autism.
Alert your doctor before taking this vaccine if you are allergic to these ingredients.
FluMist
FluMist is a nasal spray developed by MedImmune. The major difference between FluMist and the traditional flu shot is that FluMist contains a live attenuated (or weakened) virus as its active ingredient, according to the U.S. Food & Drug Administration. Live, but weakened viruses allow better immunity to the flu than dead viruses. In addition, the FDA states that FluMist contains monosodium glutamate (MSG), hydrolyzed porcine gelatin, arginine, sucrose, dibasic potassium phosphate, monobasic potassium phosphate, and gentamicin sulfate. Do alert your doctor if you have allergies to any of these other ingredients.
Is This an Emergency?
If you are experiencing serious medical symptoms, seek emergency treatment immediately.