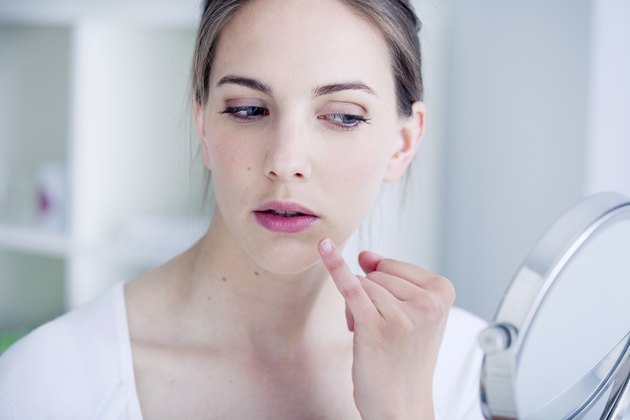 Sores in or around the mouth — called oral herpes, cold sores or fever blisters — are generally caused by the type 1 virus.

Sores in the genital region — called genital herpes — are usually caused by the type 2 virus.
After an initial infection, repeated episodes can occur with both forms of herpes. But many people don't know they have oral or genital herpes, as these infections usually cause no symptoms.
But what does herpes actually look like? When sores do occur, they typically go through four main stages. Oral and genital herpes produce similar appearing sores, although there may be minor differences. See your doctor if you are wondering whether a sore is caused by a herpes virus.
First Stage of Herpes: Prodrome and Redness
One to a few days before the appearance of herpes sores, some people experience prodromal symptoms, such as mild itching, tingling or burning in the area.
In genital herpes, the prodrome may also include pain with urination and pain in the buttocks, hips or legs. Redness and swelling occur where the sores will develop, but these symptoms are usually so mild that they go unnoticed.
Despite the lack of obvious sores (herpes doesn't really look like anything at this point), a person is contagious during this stage because virus is shedding from the skin or saliva. Herpes is often transmitted to others at this time because people do not realize there are infected so don't take appropriate precautions, such as avoiding skin to skin contact with another person.
Second Stage of Herpes: Bumps and Blisters
In this stage, you can start to see what herpes looks like as sores become visible. They typically begin as a cluster of tiny red bumps that soon become filled with fluid to produce blisters. These blisters sit on a red base. They contain fluid that is initially clear but rapidly becomes whitish-yellow. Bumps and blisters can be painful.
Oral herpes tends to produce fewer sores than genital herpes. With both types of herpes, the sores are more numerous during an initial infection than during later episodes. Flu-like symptoms, such as fever, headaches or tiredness, may also occur at this stage during an initial infection but not during repeated episodes.
Third Stage of Herpes: Crusts and Ulcers
The blisters will eventually break open, leaving open sores called ulcers. These ulcers appear as shallow, pinkish-red craters. Pain is often at its worst when ulcers appear.
Initially, the ulcers will be moist, with watery fluid weeping from the surface. The ulcers will fill with soft whitish-yellow material made of the remains of dead cells.
Eventually the whitish-yellow material in ulcers will dry up, harden and become darker, producing a crust, or scab, as noted by the authors of Netter's Infectious Diseases E-Book. Crusts may not appear when ulcers are inside the mouth or in the genital area, as they do not form well in these areas.
Fourth Stage of Herpes: Healing
Healing occurs as ulcers and crusts are gradually replaced by new tissue. The sores become smaller and shallower over time, as healing occurs from the outside to inside. Mild itchiness is a common sign of healing. The crust may crack as new tissue forms under it.
Minor bleeding may also occur. The area can remain slightly red or pale for awhile, but it will eventually return to normal. Scarring will not occur unless the scab is picked off too early or bacteria enter the area to set up a secondary bacterial infection.
During the initial episode of either oral or genital herpes, the entire process from stage 1 to full healing can take as long as 6 weeks. With later episodes, the sores usually heal within 1 to 2 weeks after onset, according to the authors of Pathophysiology for the Health Professions E-Book. Viral shedding, which began in stage 1, continues until all sores are fully healed. In fact, intermittent shedding may occur even when the sores are completely gone.
What Do YOU Think?
Have you ever had a sore you thought was herpes? What did you do? Did you visit your doctor? What did your doctor tell you? What kind of tests were performed? Share your thoughts and questions in the comments below!
Reviewed and revised by Mary D. Daley, M.D.