Approximately 5 percent of all Americans will develop appendicitis. The Merck Manual states that before surgery and antibiotics were readily available, 50 percent of those patients would die, a rate that is now almost zero. Rupture, the most serious complication of appendicitis, can occur within 24 hours after the appendix becomes inflamed. This can result in infection of the lining of the abdominal cavity (peritoneum), which has the potential to travel through the blood stream.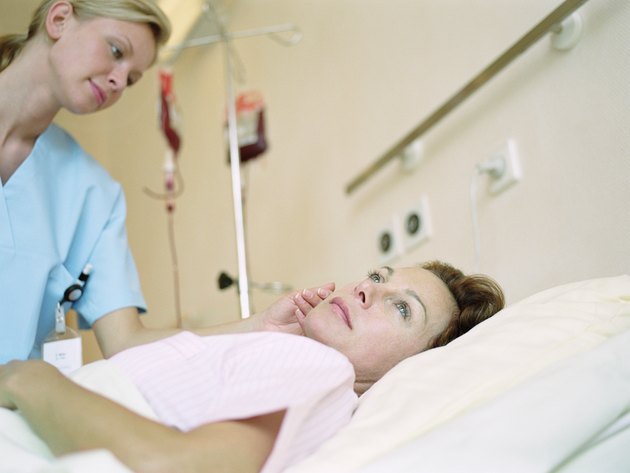 Worsening Pain
According to the Milton S. Hershey Medical Center at Penn State University, the pain of appendicitis may decrease when the appendix first ruptures because the pressure in the swollen appendix is released. However, the pain soon intensifies as the infection spreads to the peritoneum. The entire abdomen may be hard, rigid and very tender to the touch. Treatment for rupture involves antibiotics, usually administered intravenously in the hospital. Once the infection subsides, the appendix is removed.
Rising Fever
When the infection from the rupture spreads from the contained area inside the appendix to the entire peritoneum, the patient's body temperature rises. Medications that reduce fever such as acetaminophen or ibuprofen are given to reduce fever and make the patient more comfortable, but they do not cure the infection.
Gastrointestinal Symptoms
A ruptured appendix can cause vomiting and diarrhea, with blood present in the vomit or stool. According to the University of Texas Health Science Center San Antonio, a rupture can also lead to a paralytic ileus, in which the bowels cease to function; stool and gas cannot pass, so the stomach becomes distended and no bowel sounds are heard.
Shock
Peritonitis from a ruptured appendix leads to shock if not treated. The patient may have a weak, irregular pulse; cold, clammy skin with a bluish tone; low blood pressure; extreme weakness and confusion. Urine output is decreased, and breathing is fast and shallow. Shock from peritonitis is a medical emergency that will result in death if not quickly treated with antibiotics, fluids and medications to increase blood pressure and stabilize the heartbeat.