Tinea cruris, or jock itch, is a fungal infection of the groin caused by dermatophytes. It may have symptoms of burning, itching and a rash in the genital area that may be ring shaped. Jock itch may affect both men and women and is caused by the same organism that causes ringworm. Mild cases may be eliminated with over-the-counter topical treatments while severe case or infections in those with immune disorders may require prescription antifungal treatment.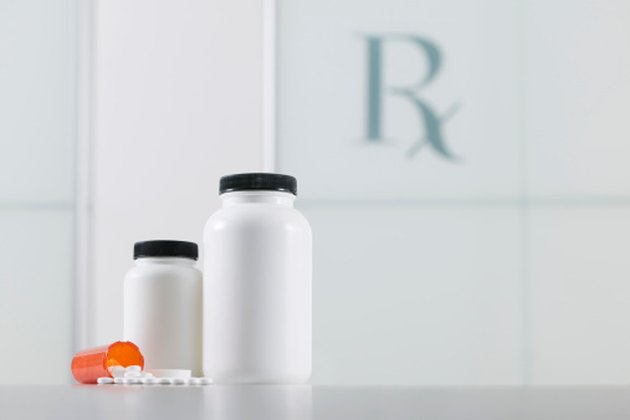 Topical Over-the-counter Medications
Several antifungal topical treatments are available without a doctor's prescription. They should be applied on clean, dry skin. Terbinafine is available as a cream, solution or spray formulation, while naftifine is available in cream and gel formulations. Tolnaftate is available in cream, spray and solution formulation, while clotrimazole is available in cream, spray and powder form. Miconazole has been shown to be effective for jock itch but has been marketed mostly for vaginal yeast infection in cream and vaginal suppository form. Topical antifungal treatment has few side effects, but the area may continue to be irritated for several days while healing occurs. If symptoms persist after a week or more of topical antifungal treatment, a physician should be consulted, as different or stronger medication may be required.
Topical Prescription Medications
Prescription topical antifungals may be more effective for resistant or recurring jock itch infections. Econazole is available with a prescription in cream formulation, while oxiconazole is available in both cream and lotion forms. Both medications have been shown to be effective in the treatment of a variety of fungal infections that may cause symptoms of jock itch or fungal groin infection, including some infections that are resistant to over-the-counter medications. Most patients using topical antifungal treatment report few side effects other than complaints related to the infection.
Oral Prescription Medications
In cases of jock itch or other fungal infections of the groin where symptoms are severe or persistent, oral antifungal medication may be necessary. This is particularly true if the patient is immunocompromised with conditions, such as HIV/AIDs, or is undergoing immunosuppressive treatment, such as chemotherapy or inflammatory disease treatment. The oral formulation of terbinafine is mostly used to treat tinea infections of the nails, but has been used for severe cases of jock itch. Fluconazole has been used as short-term therapy for vaginal yeast infection and as treatment for severe systemic fungal infections, but may be used for jock itch in some patients. Itraconazole, a related anti-fungal medication is used to treat a wide variety of fungal infections, including severe and persistent tinea infections, such as jock itch. Both fluconazole and itraconazole may cause changes in heart functioning, liver or kidney damage and may interact with a number of other medications. The prescribing physician should be made aware of all preexisting health conditions and medications being taken.