Tongue fungus is a form of mucocutaneous infection, or thrush. It is due to a yeast, a single-celled budding organism, most often Candida albicans. According to the Lab Technologist site, there are 600 known microorganisms that inhabit a healthy human's mouth and are considered normal flora; Candida is one of them. Thrush occurs when the normal flora balance is upset for a variety of reasons.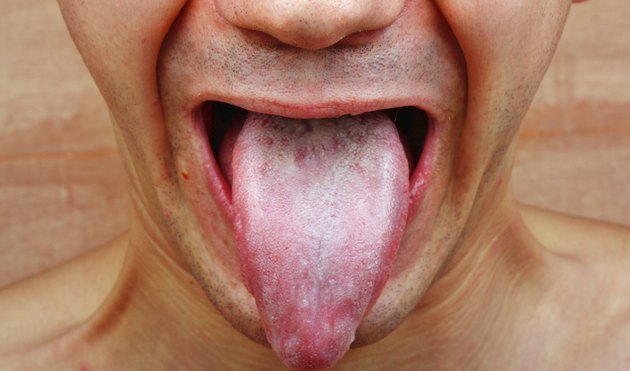 Risk Groups for Thrush
According to experts at the Mayo Clinic, thrush can occur in anyone, but usually develops in neonates, the elderly (especially denture wearers), pregnant women, immunocompromised patients (especially those who have AIDS), diabetics (due to high blood sugar), cancer patients undergoing chemotherapy or radiation treatment, people with dry mouth (xerostomia), smokers and patients who have received broad-spectrum antibiotics or steroids for a long time.
Signs and Symptoms of Thrush
Raised white to creamy colored plaques that look like cottage cheese are seen on the tongue and surrounding area. When these white plaques are scraped away, the underlying surface is red and may bleed. Thrush symptoms include sore throat, burning tongue, changes in taste and dryness.
Diagnosis of Thrush
Presumptive diagnosis is by looking at the tongue and seeing characteristic plaques on the tongue and inner cheeks. If in doubt, a smear of the white exudates can be Gram stained and will show blue colored budding yeast under magnification.
Complications of Thrush
Oral thrush is seldom a problem for healthy children and adults. In severe cases (especially immunocompromised hosts), the lesions may spread into the esophagus.
Treatment of Thrush
According to Rex, first-line treatment is with an oral antifungal: clotrimazole troches 10 mg five times daily; nystatin suspension or pastilles qid; or fluconazole 100 to 200 mg daily. Second-line treatment is itraconazole solution 200 mg daily; or posaconazole 400 mg qd; or voriconazole 200 mg bid; or amphotericin B (AmB) suspension 100 mg qid; IV echinocandin or AmB-d (amphotericin B deoxycholate) 0.3 mg/kg. Topical therapy with clotrimazole or nystatin is recommended for mild disease. Fluconazole is recommended for moderate to severe disease. Uncomplicated disease should be treated for seven to14 days. For thrush that is refractory to fluconazole, itraconazole, voriconazole, posaconazole or AmB suspension is recommended.
Prevention of Thrush
To prevent thrush, it is recommended to practice good oral hygiene with brushing, flossing and use of antiseptics; use a spacer when taking inhaled corticosteroidsl rinse with mouthwash after inhaling the dose and refrain from smoking.
Is This an Emergency?
If you are experiencing serious medical symptoms, seek emergency treatment immediately.