Once a person is infected with the herpes virus, skin symptoms will appear, disappear and return. Flare ups on the surface of the skin or mucous membranes may occur whenever the person experiences triggers such as stress, sun exposure, menstruation, illness, fatigue, and sexual intercourse. According to RN magazine, skin symptoms accompanying the primary infection generally prove more severe than skin symptoms that recur after a dormant period. Different patterns of skin symptoms from cold sores to life-threatening infections are associated with human herpes viruses.
Cold Sores and Fever Blisters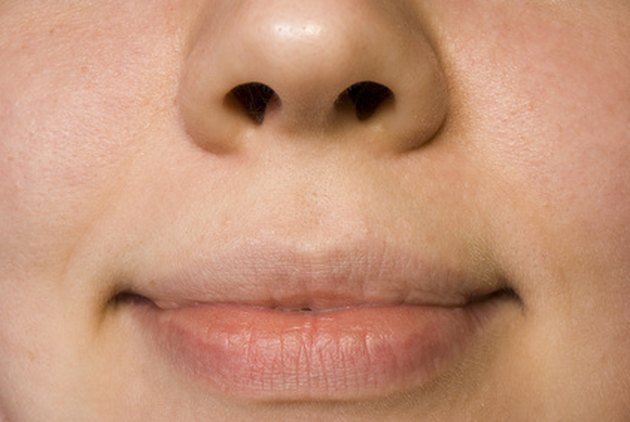 Herpes cold sores and blisters (linked to HHV-1, herpes simplex virus type 1) cause pain, burning or itching. They first appear as small reddened sores or blemishes for one to two days and then develop into fluid-filled blisters typically occurring on the face: in or around the mouth, lips, cheeks or nose. Sometimes a fever accompanies the appearance of the blister. The blister bursts, crusts over and heals in seven to 10 days.
Genital lesions
The herpes simplex virus type 2 (HHV-2) is associated with genital lesions. These lesions begin as blisters that may burn or itch and become open, painful reddened sores on genital mucous membranes. Fluid-filled vesicles or blisters may appear on the penis, scrotum, and rectum for men. In women, a pelvic exam may reveal vesicles or blisters inside the vagina, cervix, on the labia, or redness in the area between the vulva and rectum. Fever may occur, along with headaches. Genital herpes skin symptoms may look different for each individual and may mimic those of other sexually transmitted diseases.
Itchy blisters
First appearing as clusters of small reddish bumps on the chest, face, back, arms or legs, the Varicella-zoster virus (HHV-3), commonly called chickenpox, develops into blister clusters that fill with pus, and then burst open before crusting. The blisters dry and scab in seven to 10 days.
Erythematous maculopapular rash
This reddened, non-raised, flat skin rash symptom develops into a line pattern of small, inflamed, elevated skin lesions on the chest or lower back region. Skin symptoms associated with this herpes human virus is also linked to the HHV-3 Varicella-zoster virus, but represents a reactivation of the virus and is commonly called shingles. Burning, tingling and severe pain may be experienced before the rash appears. Lesions continue to develop over three to five days. The skin lesions appear in a line pattern that follows a nerve pathway. Pain may persist for months to years after the skin symptoms heal because of damage of the nerve.