Soy nuts are often sold as a healthy snack and are roasted or baked soy beans. They may come in a wide range of flavors and can make a tasty snack that's rich in healthy protein. Not only can you eat soy nuts as a snack, but you may also experience several health-related side effects, some positive and some negative. Talk to your doctor before incorporating soy nuts into your diet to ensure they're right for you.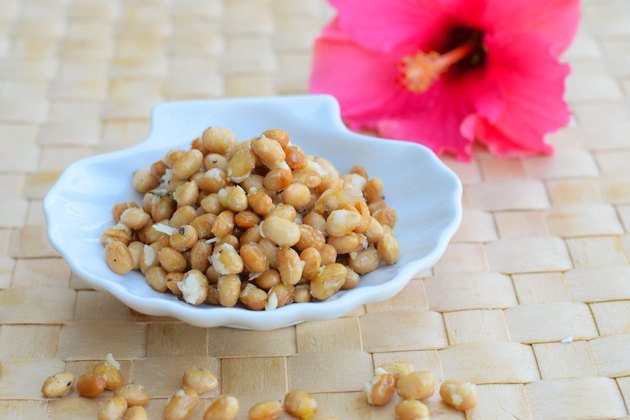 Cardiovascular Health
Replacing 25 g of your dietary protein with 25 g of soy protein derived specifically from soy nuts may help with general cardiovascular health. A May 2007 study published in the Archives of Internal Medicine found that eating soy nuts helped lower blood pressure by up to 9.9 percent and decreased levels of cholesterol. The researchers concluded that soy nuts have a "cardioprotective effect."
Menopause Symptom Alleviation
Soy nuts can help improve your quality of life if you're a woman going through menopause, say researchers in a medical study published in 2007 in the Journal of Women's Health. Researchers noted that eating 25 g of protein derived from soy nuts helped reduce symptoms like hot flashes if the total amount was split into three or four servings and eaten throughout the day.
High Sodium
Some soy nut products may contain various flavors and seasonings, including a high amount of salt. Excessive salt intake may be a contributing factor to high blood pressure. Talk to your doctor if you have high blood pressure or a history of high blood pressure in your family, as specific sodium intake recommendations vary by individual. If you're restricted on your sodium consumption, opt for a salt-free or low-sodium soy nut product.
Osteoporosis
The University of Maryland Medical Center reports that the isoflavones in soy nuts may help improve bone mineral density. This may help combat disorders like osteoporosis. The UMMC says the most effective supplementation is 40 g of soy protein per day.
Allergic Reactions
Some people may be allergic to soy nuts. If you're allergic, you may experience problems like a rapid drop in blood pressure and a runny nose, warns the Mayo Clinic.
Gastrointestinal Distress
The consumption of soy nuts may sometimes lead to gastrointestinal problems, according to the Mayo Clinic. These may include changes in your stool density, a feeling of bloating, painful stomach cramps and nausea or vomiting.
Hormone Problems
If you have a hormone-sensitive form of cancer, such as ovarian cancer, the National Institutes of Health warns against consuming soy nuts and other forms of soy. Soy protein contains active chemicals that may act like estrogen and may encourage the growth of tumors.