Alongside fat burners and waist trainers, wrapping your stomach in plastic wrap is one of those not-so-scientific methods that's rumored to help you lose weight fast and with minimal effort.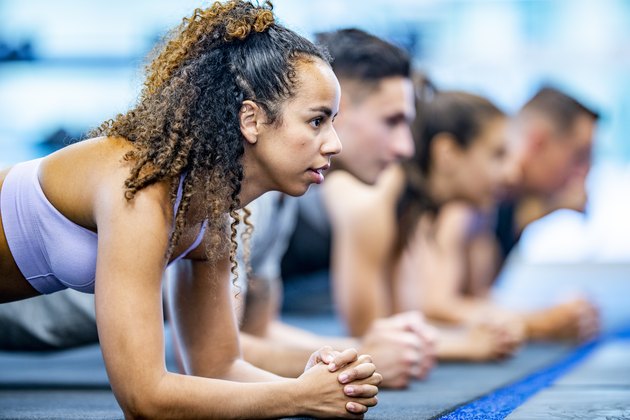 However, while binding your stomach (or any part of your body) in plastic during exercise will definitely cause you to sweat, it won't increase your calorie burn or boost fat loss. Plus, it can lead to dangerous conditions like dehydration.
While quick-fix weight-loss methods are certainly appealing, they won't help you keep the weight off for long. Instead, introduce some healthy exercise and eating habits that are sustainable for you long-term — your body will thank you!
The Dangers of Excessive Sweating
Breaking a good sweat during a workout is a healthy way to boost your mood. However, the amount of sweat you produce is not a measure of calorie burn, according to the Mayo Clinic. While inducing excessive sweating may cause you to lose some water weight, it will be regained as soon as you rehydrate.
Not only is excessive sweating unhelpful when it comes to weight loss, but it can lead to dehydration, according to the Mayo Clinic. Dehydration occurs when you lose more fluids than you take in, meaning your body doesn't have enough water to carry out its normal functions. This condition can compromise your body's ability to cool itself, affecting your capacity to perform physically, according to the National Collegiate Athletic Association (NCAA). It can also cause fatigue, dizziness and confusion, and can lead to more serious complications, such as kidney problems, seizures and life-threatening heatstroke.
Safe (and Effective!) Weight-Loss Practices
For safe and long-term fat loss, stick to the basics: diet and exercise. While quick-fix techniques may sound more appealing, they will often set you back and leave you feeling discouraged. Instead, give your body the healthy treatment it deserves and spend at least 75 minutes each week performing aerobic exercise, recommends the U.S. Department of Health & Human Services. And don't neglect strength training; try to spend at least two days a week in the weight room.
Alongside exercise, a healthy diet and safe, sustainable calorie deficit is necessary for fat loss. Use a calorie counter, such as MyPlate, to help you determine how many calories you need to consume. MyPlate factors in your age, gender, height, weight, activity level and weight loss goal to calculate the calorie deficit you should aim for. Typically, cutting out 500 to 1,000 calories each day is considered safe, according to the Mayo Clinic. A pound of fat consists of 3,500 calories, so with a deficit of 500 calories per day, you can expect to lose a pound per week.
As far as the substance of your meals, choose foods that are high in nutrients and high in fiber. Foods high in fiber, like vegetables, beans and fruit, take longer to digest and will keep you feeling full, according to the Academy of Nutrition and Dietetics. Protein-rich foods like chicken, fish and eggs will also help ward off hunger, according to Harvard Health.