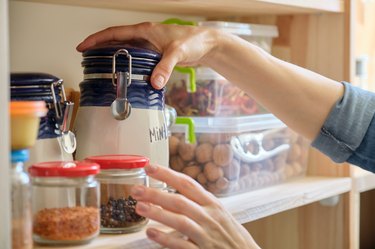 A can of tuna, box of oatmeal and bag of beans don't seem like the most exciting ingredients, but when combines with other non-perishable foods, they can make some pretty awesome dishes. Plus, they're inexpensive and stay fresh for long.
Making canned and other non-perishable foods taste (and look) decadent takes some creativity. Luckily, registered dietitians Shena Jaramillo, RD and Maryann Walsh, RD have taken all the brainpower out of cooking a delicious non-perishable-ingredient meal. So, next time you're stumped for a recipe, give one of these a try.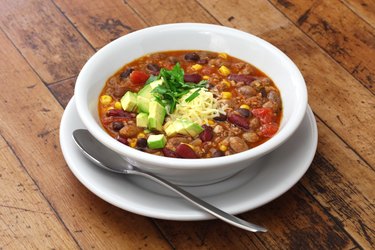 This recipe is easy to prepare and features some nutritional must-haves. Jaramillo's Taco Soup is filled with plenty of beans, which means you'll get a good serving of fiber in this dish. Getting enough fiber (women need at least 21 to 25 grams per day while men need at least 30 to 38 grams per day) promotes healthy digestion and satiety, according to the Mayo Clinic.
6 cups tomato juice
1 can black beans
1 can kidney beans
1 can olives
1 can green chilis
1/2 cup dry textured vegetable protein (a soy product usually found in your grocery store's health food section)
1 can corn
​How to Prepare Taco Soup​
​Prep ingredients:​ Drain the canned beans and corn. In a strainer, rinse to remove excess sodium.
​Combine ingredients:​ In a large saucepan, combine the tomato juice, beans, olives, chilis, vegetable protein and corn.
​Cook:​ On low heat, let the ingredients simmer for about 20 minutes.
​Serve:​ Serve your taco soup with tortilla chips and, if available, add some raw garnish or avocado on top.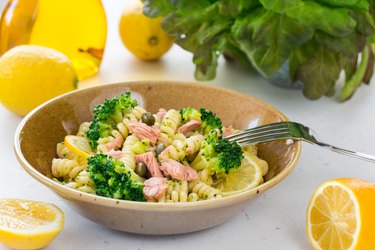 If you're looking to use up your non-perishable foods, chances are, there's some tuna in the back of your pantry. Tuna is a great source of lean protein, providing about 32 grams of protein and only 1.6 grams of fat per can, according to the USDA.
Combine your fish with some pasta and veggies for a nutritious tuna salad. "This recipe can be served heated up and it tastes great cold for leftovers," Walsh says. "The tuna packs a protein punch and you can use whole-grain pasta for an added nutrition boost."
​Pasta Tuna Salad Ingredients​
3 cups elbow pasta
2 cans of tuna
½ cup canned peas
1 small can diced tomatoes
1 small can olives (any kind )
½ cup mayonnaise
2 tablespoons pickled relish
1 tablespoon white vinegar
Pepper to taste
Tip
If you don't have any elbow pasta, you can use any you have on hand, says Walsh. The same goes for your tuna.
​How to Prepare Pasta Tuna Salad​
​Prepare your ingredients:​ Before you begin, drain your peas, tuna and olives. If you want to get rid of any excess sodium, rinse the olives and peas. In a pot cook the 3 cups pasta until al dente (a little firm), drain and rinse under cold water. Set these ingredients aside in large bowl.
​Mix wet ingredients:​ In a small bowl, mix the mayonnaise, relish, vinegar, salt and pepper.
​Combine:​ In a large bowl, combine the tuna, peas, tomatoes, olives and pasta.
​Dress and toss:​ Drizzle the wet ingredients over the pasta and toss the salad.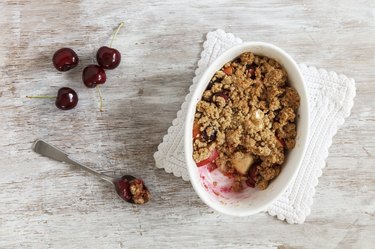 You don't need endless ingredients to whip up a decadent dessert, especially with Walsh's fruit crisp recipe. This dessert is also full of whole-grain carbs, which are high in fiber, magnesium, iron and B vitamins, according to the Whole Grains Council.
"This fruity dessert combines nutritious whole grain oats with the vitamin and antioxidant boost of fruit," Walsh says. "It is a summertime favorite that also works well in the fall depending on which type of fruit you use."
​Canned Fruit Crisp Ingredients​
2 15-ounce cans of preferred fruit (peaches, apples, pears, fruit cocktail, etc.)
⅔ cup quick oats
4 tablespoons coconut oil
2 tablespoons brown sugar
⅓ cup chopped nuts (almonds, walnuts, cashews, etc.)
​How to Prepare Canned Fruit Crisp​
​Preheat the oven:​ Before you begin, preheat your oven at 350 degrees Fahrenheit.
​Prepare ingredients:​ Drain the liquid from your canned fruit and add them to a baking dish.
​Combine dry ingredients:​ In a medium bowl, mix the oats, brown sugar, nuts and optional cinnamon and cranberries.
​Stir ingredients:​ Add the coconut oil to the dry ingredients and stir until the ingredients reach a crumbly consistency.
​Combine:​ Once the oat mixture reaches a lumpy, buttery texture, sprinkle it evenly over the fruit in the baking dish.
​Bake and serve:​ Bake until the crisp is a golden brown, which is about 40 minutes. Let the crisp cool and serve.
4. Salmon Cakes With Cream Sauce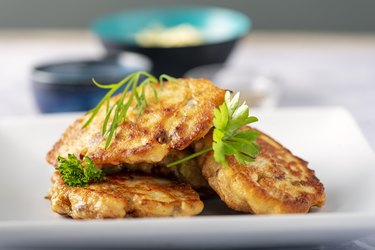 If you're a fan of crab cakes, these salmon cakes are a must-try. Plus, salmon is high in protein and healthy, unsaturated fats, including omega-3 fatty acids, according to Harvard Health Publishing. These fats can promote good brain and heart health.
​Salmon Cakes With Cream Sauce Ingredients​
1 can of salmon (7 to 8 ounces)
2 tablespoons ground flaxseed
1/4 cup toasted bread crumbs
1 teaspoon garlic powder
1 teaspoon onion powder
1 teaspoon dried oregano
6 tablespoons water
1 teaspoon lemon juice
1 cup soaked cashews
4 tablespoons nutritional yeast
1 teaspoon apple cider vinegar
2 tablespoons lime juice
1/2 cup water
Tip
Before you begin cooking, soak a cup of cashews in water for about an hour.
​How to Prepare Salmon Cakes With Cream Sauce​
​Combine dry salmon cake ingredients:​ In a medium-sized bowl, combine the salmon, flaxseed, bread crumbs, garlic powder, onion powder and dried oregano.
​Add liquid to cakes and mix:​ Add the water and lemon juice into the medium bowl and mix the ingredients. Then, let the mixture stand for 10 minutes. Add a few more bread crumbs if it's not at your desired consistency.
​Heat oil and prep patties:​ In a skillet, heat oil or butter. Form the salmon mixture into patties. Once the skillet is heated, grill each patty for 4 to 5 minutes on each side over medium heat. Set aside.
​Combine cream sauce ingredients:​ Drain the soaked cashews. Add the cashews, yeast, apple cider vinegar, lime juice to a high-powered blender. Blend the ingredients for a few moments. Slowly add water at the end to achieve your desired creamy consistency.
​Add sauce and serve:​ Add cream sauce to the top of your cooked salmon cakes and serve.