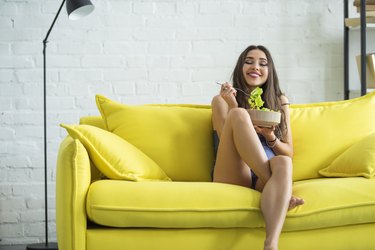 There's a reason salads are sometimes called "rabbit food" — a few leaves of tasteless lettuce garnished with uninspired slices of tomato and red onion doesn't exactly make for an appetizing side dish let alone a satiating meal.
But here's the thing: Salads don't have to be boring. On the contrary, they can be healthy, hearty meals that fill you up and delight your taste buds, too. (Yes, even if you're counting calories!)
Here, registered dietitians share their favorite, most creative salad recipes so you can transform your tired greens routine into truly satisfying meals that won't leave you feeling deprived.
1. Fit5 Summer Salad With California Walnut Lemon Vinaigrette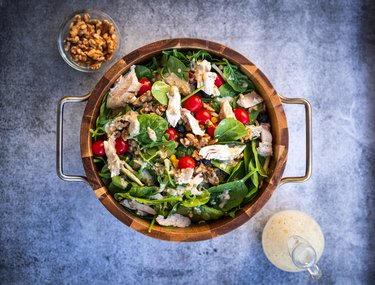 "This meal hits all five food groups in one colorful and protein-packed salad," says creator Jim White, RD, CPT, dietitian, personal trainer and owner of Jim White Fitness & Nutrition Studios.
2 cups cooked wild rice, cooled
1 cup fresh blueberries
2 ears corn, cooked and kernels removed from cob
1 medium yellow squash, peeled and sliced thin
1 cup cherry tomatoes, halved
2 cups arugula/spinach mix
1/4 cup crushed walnuts
1/4 cup thinly sliced white cheddar cheese
1 lb chicken, grilled
1/3 cup olive oil
1/4 cup California walnuts
1/4 cup lemon juice
1 tablespoon Dijon mustard
1 tablespoon honey
1/2 teaspoon sea salt
1/4 teaspoon pepper
2 cloves garlic, minced
To make the dressing, add all of the ingredients to a small bowl. Whisk to completely emulsify the dressing. Taste and adjust seasoning with salt and pepper. (For added flavor, lightly toast the walnuts.)
To assemble the salad, add all ingredients except for the chicken to a large serving bowl. Toss gently to combine. Add dressing and continue tossing until evenly coated. Top with grilled chicken.
2. Smoky Chickpea Salad With Adobo Ranch Dressing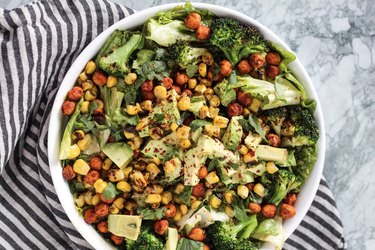 Don't be fooled: The ingredients here may be simple, but thanks to some jazzed-up chickpeas and a creative dressing, the flavor is ‌big‌.
1 can chickpeas, rinsed and drained
1 Tablespoon tahini
2 Tablespoons favorite BBQ sauce
Pinch of salt
‌For the Adobo Ranch Dressing:‌
3 Tablespoons tahini
Juice of 1 lemon
1 teaspoon miso paste
1/2 teaspoon smoked paprika
2 teaspoons maple syrup
1 teaspoon mustard
1/2 teaspoon garlic powder
1/4 teaspoon adobo seasoning
4 Tablespoons water
Salt and pepper to taste
1 romaine heart, chopped (or 1 bagged salad)
BBQ chickpeas
1 cup fire-roasted corn
1 avocado, chopped
1 cup roasted broccoli
Make the BBQ chickpeas: Preheat the oven to 400°F. Place all ingredients in a bowl and toss together to coat chickpeas evenly. Spread out on a lined baking sheet and bake for 25 minutes. (If you are using an air fryer, bake at 370°F for 15 minutes or until crunchy.) Remove chickpeas from oven and allow to completely cool.
Make the dressing: In a small bowl, add all dressing ingredients and whisk until smooth. Add more water, 1 Tablespoon at a time, if you want to make the consistency a little thinner.
Assemble the salad: In a large bowl, add greens and top with half the dressing. Toss to coat all romaine leaves. Toss in remaining ingredients, plus remaining dressing, and toss to coat again before serving.
3. Everything But the Kitchen Sink Salad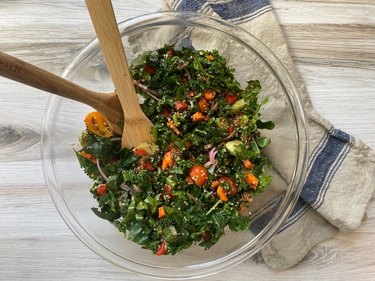 "Salad doesn't have to be boring," says the creator of this one, dietitian Serena Marie, RD. "If your salad is boring, well, that's your choice. Don't blame salad."
The key elements of a satisfying salad, she says, are a really delicious homemade dressing, a grain, a legume and something for texture, such as chopped walnuts or pomegranate seeds. "And a commitment to building a beautiful salad rather than just throwing in the towel after a few pieces of lettuce and tomato."
1 to 2 cups spinach leaves, chopped
1 to 2 cups kale, de-stemmed and chopped roughly
1 carrot, chopped
1/2 cup green beans, chopped
4-inch cucumber, peeled and diced
1/2 cup cherry tomatoes, halved
1/2 red bell pepper, diced
1/4 cup red onion, thinly sliced
1/2 cup unsweetened, dried cranberries
1/4 cup crushed hazelnuts
3/4 cup cooked quinoa
Olive oil cooking spray
1/2 cup balsamic vinegar
2 Tablespoons mustard
2 Tablespoons maple syrup
1/4 cup olive oil
Place the kale in a large salad bowl and spray with olive oil until lightly covered. Massage the kale between your fingers for 1 to 2 minutes or until the kale leaves have turned bright green.
Add spinach to the salad bowl before adding the rest of the vegetables.
Optional: Toast the hazelnuts by heating a nonstick pan over medium heat. Once hot, add the nuts and cook for 3 minutes, stirring frequently. Remove the nuts from the heat once they start to deepen in color, then add to the salad.
Add the quinoa and toss to combine all the ingredients.
To make the salad dressing, add all of the ingredients to a Mason jar. Shake or stir until combined.
If you're preparing the salad ahead of time, leave undressed; it will keep for two to three days in the fridge without dressing.
When ready to eat, add the salad dressing, toss and serve.
4. Mexican Grilled Chicken Salad With Chipotle Ranch Dressing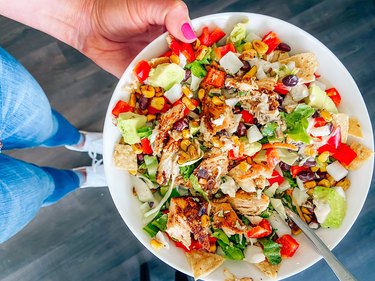 "Sometimes I see people eating salads that are just so sad looking because they're trying to 'be healthy' or eat 'low calorie,'" says dietitian Shanna Hutcheson, RD, creator of this recipe. "But trust me when I say that loading up your salad is absolutely the way to go. You will be way more satisfied if you add lots of veggies (fiber), as well as a source of protein (i.e. chicken or black beans) and some healthy fats (enter: avocado)."
3/4 lb boneless, skinless chicken breasts (2 small/medium breasts)
1 ear of corn, shucked
1/2 Tablespoon ghee or butter
6 cups spring mix, packed
1/2 cup black beans (no-salt-added), drained and rinsed
1/2 red bell pepper, chopped
1/2 red onion, chopped
1 jalapeno, diced
1 avocado, sliced or cubed
1/4 cup tortilla strips garnish
Garlic powder, chili powder and black pepper to taste
‌For the Chipotle Ranch Dressing:‌
1/2 cup plain Greek yogurt
1 teaspoon garlic powder
1/4 teaspoon onion powder
1/8 teaspoon cayenne pepper
1/8 teaspoon chili powder
1 teaspoon lemon juice (or sub apple cider vinegar)
1/2 teaspoon dried dill weed
1/4 teaspoon salt
3/4 teaspoon tabasco hot sauce
2 Tablespoons water
Optional: Tortilla strips for topping
Preheat grill to medium-high. Season chicken breasts with garlic powder, chili powder and black pepper. Lightly coat corn on the cob with ghee using a silicone brush.
When grill is ready, add chicken and corn. Close lid and cook for 8 to 10 minutes, turning the chicken halfway through using a spatula. Use tongs to turn the corn after about 5 minutes. Cook until chicken reaches internal temperature of 165°F using meat thermometer, and until corn on the cob is slightly charred all over. Then remove both from grill.
Using a sharp knife, cut the grilled corn off the cob over a plate or small bowl. Set aside.
Slice chicken breasts or cut into bite-sized pieces. Set aside.
Prepare salad dressing. Add all dressing ingredients to a small bowl or Mason jar and mix until thoroughly combined. If adding to a Mason jar, just close the lid and shake it up to mix well. (Dressing stays good in a sealed Mason jar or airtight container in the fridge for up to 1 week.)
Add all salad ingredients except the chicken to a large mixing bowl. Drizzle 4 tablespoons of the Chipotle Ranch Dressing over the top. Use tongs to toss salad until all ingredients are lightly coated in the dressing. Divide salad evenly into two serving dishes. Then top both salad bowls evenly with grilled chicken, tortilla strips, and any other desired toppings. Serve immediately.