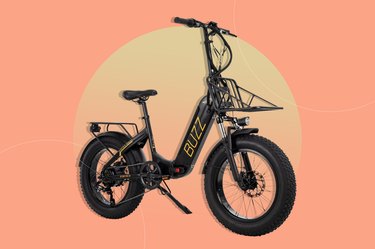 I spent 10 years successfully biking my way around Chicago — the flat, gridded city that it is. But after moving to Los Angeles, the streets proved to be less hospitable to city bikers like myself thanks to hills, potholes and more hills.
My old road bike wasn't cutting it, so I decided to step up my game and put an electric bike to the test. Enter the Buzz Centris folding electric bike, one of the brand's most portable picks yet. Here's how it held up on the streets (and beaches) of L.A.
The foldable Buzz Centris e-bike packs all the punch of your typical electric bike, except it folds up to make storage and portability more of a breeze.
The bike features a 48-volt lithium battery (which lasts up to 40 miles and recharges in six hours or less), 500-watt motor, five levels of electric power assist and six speeds to help you go as fast as 20 miles per hour. You can track your speed, power assist level, distance and battery on a handlebar-mounted speedometer.
Even better, you'll be cruising in comfort thanks to the bike's fat tires, sturdy aluminum frame and wide seat cushion. You'll also ride in style — the Buzz e-bike comes with accessories like bike lights and front and rear racks so you're ready to hit the road safely and securely.
Like most electric folding bikes, the 67-pound Centris is a tank compared to your average road bike. While this weight presents more of a workout than I would care for if I had to rely on my legs alone, the pedal assist makes for some smooth sailing.
As soon as I started turning the pedals, the motor kicked in and provided such a burst of power and speed that I hardly needed to use my own muscles to keep the bike in motion.
In fact, the Centris rides more like a moped than a bike, depending on what level of pedal assist you enlist. I opted for the lowest amount of pedal assist on flat stretches, then cranked up the motor for more daunting hills. And it worked like a charm — instead of huffing and puffing (and often walking) my bike up steep city streets, I'm now able to cruise up inclines without breaking a sweat.
The fat tires and front shocks also contributed to the Centris's smooth ride. The tires provide a more stable foundation than I'm used to on city bikes and are better able to withstand uneven terrain, making them well worth the added weight.
The shocks likewise absorb most of the force from bumps and potholes, which gives me more peace of mind as I navigate the rocky, traffic-laden streets of L.A.
Finally, it's comfortable. I'm prone to wrist and back pain while riding road bikes, but luckily, the Centris is more of a cruiser, so I'm able to sit upright with little pressure on my wrists.
The Buzz folding electric bike isn't just a solid option for hilly city rides. It's also the perfect vehicle for a long, meandering beach cruise. I'm no longer limited by my own energy level or muscle soreness while hitting the boardwalk path: Once I run out of steam, I just turn on the pedal assist and keep rolling as long as I like.
The bike's foldability is crucial here: It's a big frame, but because you can fold it in half, it packs easily in the trunk of your car so you can bring it wherever you'd like to ride.
The big frame is also well-suited for towing bike trailers, child carriers and other attachable units given the stability of the fat tires and extra power from the motor — just make sure your battery is fully charged before you hit the road.
I couldn't love my Buzz folding electric bike more, as it's the only reason I'm still able to consistently cycle the city streets.
Of course, though, folding e-bikes aren't always affordable. After all, the Buzz Centris typically costs $1,199. But right now, this bike is on sale for $999.
​Ready to get cruising? Shop the site now and get your own Buzz e-bike!​