Swelling, also called edema, is one of the most common symptoms experienced after a knee surgery. While it can contribute to discomfort and pain, swelling can also lead to more serious issues if left unchecked. Swelling can limit mobility of the knee and cause the surrounding muscles to be ineffective. A November 2010 study published in the "Archives of Physical Medicine and Rehabilitation" found that the quadriceps -- the thigh muscles that power straightening of the leg at the knee -- are 83 percent less effective when the knee is swollen. Thus, managing knee swelling is crucial to ensuring a successful recovery after surgery.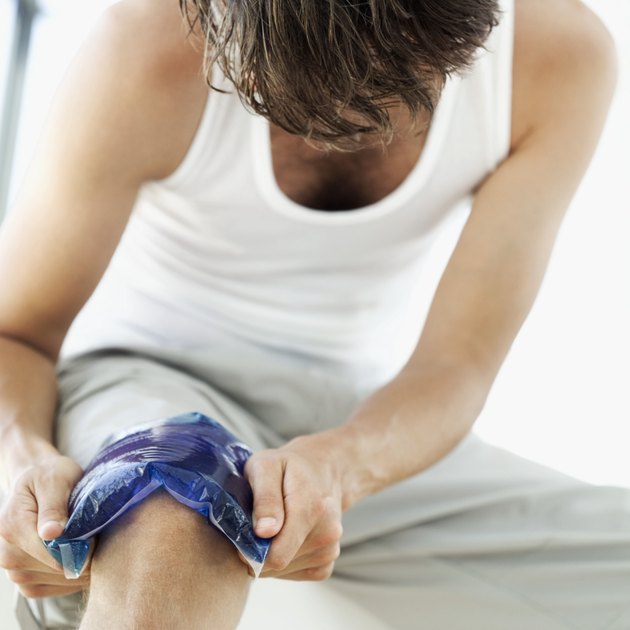 Icing and Compression
Icing the knee, also known as cold therapy, can reduce swelling for the first few days after surgery. This is typically done 30 to 40 minutes per hour while you are awake. As swelling and pain improve, the duration and frequency of icing can decrease to 10 to 15 minutes per session, 2 to 3 times per day. Compression stockings or bandages may also be prescribed by the doctor to help limit swelling. The authors of a July 2008 "Journal of Anaesthesia" review article found that, in addition to being effective for swelling, icing and compression may decrease pain and medication use after a knee surgery.
Therapeutic Exercise
In addition to cold therapy and compression, initiating knee movement and activating the surrounding muscles also helps control swelling early after surgery. Quad sets, in which you sit with your knee extended and attempt to hold a contraction of your thigh muscle, are beneficial. Also effective are heel slides, in which you sit with the knee extended and slide your heel toward you while bending the knee. Each of these activities should only be performed as instructed by your surgeon or physical therapist.
Warnings and Precautions
While swelling after knee surgery is common, it can also be a sign of a complication such as a blood clot or infection. Report any sudden increase in swelling to your doctor, especially if accompanied by worsening pain, redness, fever, or new or increasing tenderness.
Reviewed by: Tina M. St. John, M.D.