Phosphate, or phosphorus, is required by the body for healthy bones and teeth. A high level of phosphate, however, can lead to organ damage due to hardening of the tissues from calcium salts. Phosphate levels are normally higher in children than in adults because their bones are actively growing. Blood and urine levels of phosphate may be off if a person has been taking laxatives or enemas containing sodium phosphate.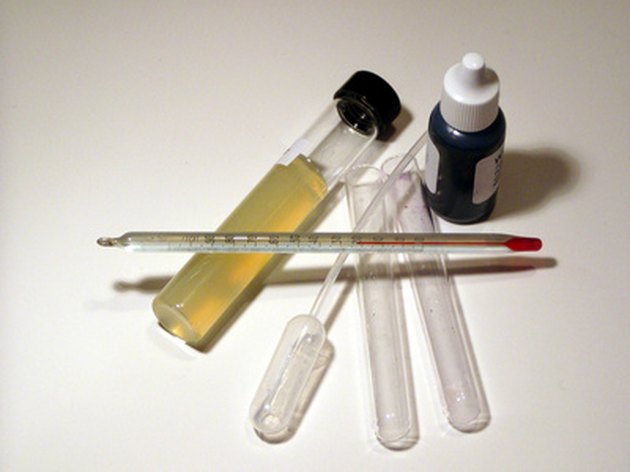 Kidney Failure
Kidney failure may produce high levels of phosphate in the blood. The kidneys rid the body of waste products and excess water through urination. The kidneys control the fluids in the body and produce hormones and vitamins that direct cell activities in several organs. When kidneys begin to work improperly, waste products and fluids can build up, creating a life-threatening situation.
Symptoms of kidney failure may include decreased urine output, fluid retention causing swelling in the legs, ankles and feet, drowsiness, shortness of breath, fatigue, confusion, nausea, chest pain, seizures and coma. Treatments for kidney failure includes medications to control blood potassium levels, raise calcium levels and lower phosphate levels. Patients may also need to undergo dialysis to filter toxins from their blood.
Hypoparathyroidism
The parathyroid glands help control calcium use and removal by the body, according to the National Institutes of Health. The parathyroid glands control a hormone known as PTH which controls calcium, phosphorus and vitamin D levels in the bones and blood.
Hypoparathyroidism is a disorder in which the parathyroid glands do not produce enough PTH. Symptoms of hypoparathyroidism include abdominal pain, brittle nails, cataracts, dry hair, dry scaly skin, muscle cramps, muscle spasms and tingling in the lips, fingers and toes. Physicians will run blood tests to check calcium, magnesium, phosphorus and PTH levels in order to make a diagnosis. Treatment involves calcium carbonate and vitamin D supplements to restore mineral balance to the body.
Dietary Intake
In some cases, a high phosphate level is due to an overuse of phosphate supplements or eating or drinking foods with high levels of phosphate. Soft drinks and pre-packaged foods can be high in phosphate content which can cause an imbalance between the calcium and phosphate in the body. Foods such as candy, chocolate, ice cream, ketchup, mayonnaise and processed cheese may also contain high levels of phosphate which can lead to poor bone density. Patients with high phosphate levels due to dietary intake should speak with a nutritionist to work out a meal plan that will limit high phosphate foods.