Insulin shock is considered a very severe medical condition that requires prompt medical attention. This is a life-threatening situation in which someone's blood sugar levels drop to dangerously low levels—resulting in unconsciousness and shock. Insulin shock should be treated immediately to save a person's life and prevent organ and tissue damage.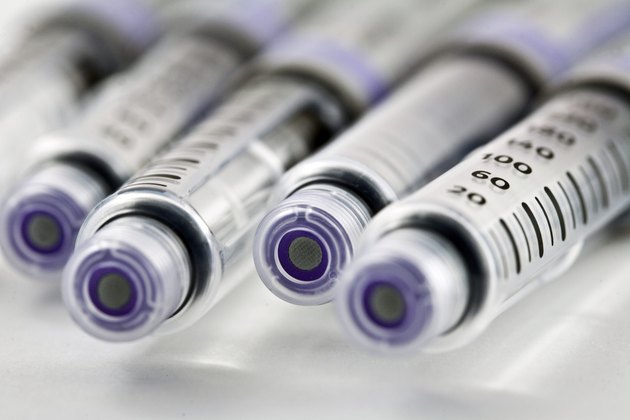 Hypoglycemia
Hypoglycemia is a drop in glucose or blood sugar. Glucose is considered the body's main energy source and is regulated by the pancreas. Glucose fluctuates as the body eats food or drinks liquids for nutrition. In a healthy person, most blood sugar levels stay in the normal range between 83 and 100. For someone suffering from low blood sugar, these levels can drop dramatically. Most people will start seeing symptoms of low blood sugar such as dizziness, sweating and shaking as the glucose drops in the 60 and below range. Some people are hypoglycemic by nature because their body produces too much insulin—where they have to eat several times throughout the day to maintain normal sugar levels. Others develop hypoglycemia when they take too much insulin, causing the sugar levels to drop rapidly as they body tries to find a fuel source to counteract with the overproduction of insulin that is in the body.
Who is at Risk?
Generally, the person most at risk for insulin shock is a diabetic. Insulin-dependent diabetics take insulin injections throughout the day to control the lack of insulin being secreted by their pancreas. Most diabetic patients have to regulate their blood sugar throughout the day, and before and after meals. Many use what is called a sliding scale to determine how much insulin to inject into their body. Sometimes if the body receives too much insulin after an injection, the body may go into insulin shock. This can happen rapidly within 15 minutes after an injection of a rapid- or short-acting insulin such as Humalog or Humulin, or it could be several hours later if the diabetic is taking an intermediate or long-acting type of insulin such as Lente or Lantus.
Symptoms
There are several symptoms of insulin shock. While the sufferer may not be responsive, it is imperative that someone recognize the signs and call 911 immediately. The early onset is often an increased heart rate, palpitations, sweating, dizziness, headache, feelings of extreme hunger and being unaware of surroundings. As symptoms progress into shock, the skin begins to cool and become pale. The sufferer could also experience a seizure. The sufferer will experience extreme weakness, slurred speech and will eventually pass out.
Treatment
The treatment for the symptoms leading to insulin shock should be to get pure glucose into the bloodstream as soon as possible. This could be by having the patient eat a sugary snack combined with high protein such as nuts or an energy bar. If the patient is unable to eat but is still awake, pure sugar sources can be utilized such as candy, sugar or an emergency glucose bar. If the patient is passed out or is feeling faint and unable to swallow or open his mouth, immediately call for emergency help. The emergency response team will be able to administer direct glucose to the bloodstream and treat the patient with CPR methods if he has stopped breathing or gone into cardiac arrest.
Complications
The main complication from insulin shock is death. Before the sufferer dies, he will likely slip into a coma in which all of the major organs will begin to shut down. Because the brain is often the first organ to suffer in an attack, brain damage can result once it stops receiving nutrients and glucose from the bloodstream. Cardiac arrest can also result once the body has slipped into shock.