Herpes is an incurable viral infection that can be managed with over-the-counter and prescription medications. MayoClinic.com suggests that some medications can significantly reduce the frequency and duration of outbreaks. Medications available without a prescription should only be used as directed. The American Social Health Association warns against using any over-the-counter medications to treat genital herpes. Prescription medications, oral pain relievers like ibuprofen, or cool compresses are safe ways to manage genital herpes pain.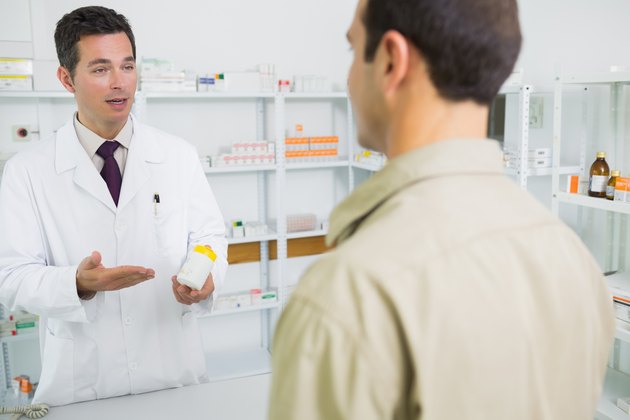 Docosanol Cream
Docosanol cream is the only FDA-approved, over-the-counter medication safe and effective for treating oral herpes according to the University of Maryland Medical Center. This medication works similarly to several prescription drugs by shortening the duration of the outbreak. The cream works best when applied at the very earliest sign of an outbreak, called the prodrome stage. Prodromes, or warning signs, of herpes include tingling, itching and tenderness. For maximum results, the cream is applied five times per day until the outbreak appears prevented or clears up entirely.
Topical Anesthetics
Topical anesthetic products offer temporary pain relief from the symptoms of oral herpes. While these medications may be effective in managing pain, they will not speed healing time or prevent future outbreaks. Benzocaine topical gel is one type of over-the-counter pain-reliever that can be used to manage herpes pain. This medication should not be used on genital herpes. Benzocaine topical works by blocking the nerve signals in the body that communicate pain states Drugs.com. This medication should be used in small amounts up to four times per day. Similar products include those made with lidocaine or tetracaine, two anesthetics that also block nerve signals. Topical anesthetics should be used only as directed.
Camphor Products
Camphor is a type of topical pain reliever. It can be found alone or in combination with other medicines marketed as lip or blister treatments. One type of lip medication, Blistex, contains camphor, phenol and allantoin. Drugs.com explains that this combination can relieve pain, itching and severe dryness. Like other over-the-counter medicines, camphor products have no effect on the virus itself.