Dangerously high blood glucose levels--over 300 milligrams per deciliter (mg/dL)--can cause life-threatening complications. Diabetic ketoacidosis (DKA) occurs mostly in type 1 diabetics, but can occur in type 2 diabetics in some cases. In DKA, insulin stores are exhausted and fats are broken down to use as energy. Ketones, byproducts of fat breakdown, build up in the body. Blood sugar and ketone levels rise and acidosis develops, leading to the characteristic symptoms of DKA. Increased stress levels, illness and missing insulin doses can lead to DKA. Death rates from DKA range from 1 to 10 percent, the Merck Manual states.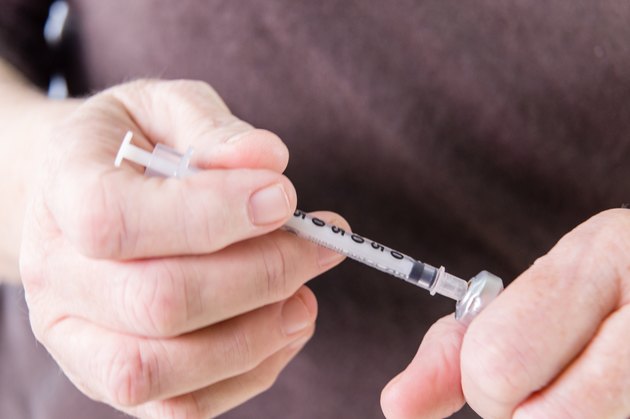 Gastrointestinal Symptoms
DKA can cause abdominal pain severe enough to be interpreted as requiring surgery, Louisiana State University Medical Center states. Abdominal pain may be especially severe in young children. Nausea and vomiting can also occur. Abdominal tenderness and guarding, as well as involuntary tightening of muscles can occur, along with decreased bowel sounds and appetite loss.
Respiratory Symptoms
People with DKA breathe deeply and rapidly, a condition known as Kussmaul's respirations. Deep, rapid breathing occurs as an attempt to compensate for acidosis. They often have a fruity odor on their breath caused by acetone exhalation that can be mistaken for alcohol intoxication. Respiratory arrest can occur if cerebral edema develops.
Dehydration
The first signs of DKA are often excessive thirst and frequent urination, which precede more serious side effects by one or two days. Urination increases in an effort to rid the body of excess glucose. Dehydration can lead to tachycardia, rapid heartbeat and low blood pressure. Skin may be flushed, and the skin and mouth may turn dry. Temperature is usually below normal, according to Louisiana State University.
Cerebral Edema
Cerebral edema, or swelling of the brain, occurs in around 1 percent of patients with DKA. Cerebral edema most often affects children, but can also occur in children and young adults, the Merck Manual reports. Symptoms include headache, confusion and trouble thinking. Lethargy, excessive sleepiness and changing consciousness levels may also occur. Ocular symptoms of increased pressure include blown pupils and papilledema, or swelling of the optic disc. Coma and death can follow. Of children with DKA, 57 percent recover without any long-lasting effects, 21 percent survive with neurological damage and 21 percent die, the Merck Manual reports.
Is This an Emergency?
If you are experiencing serious medical symptoms, seek emergency treatment immediately.