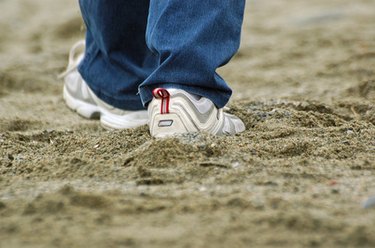 What to Look For
For ultimate beach walking the proper shoes will be comfortable, safe and supportive. For short distance walking average rubber soled thong sandals can work, but for more walking look for shoes that have a good flexible sole. The top part of the shoes can be a sandal or enclosed like a gym shoe depending on a person's preference. Types of sandals are most popular for their ease at emptying sand. Waterproof materials such as rubber, jelly, plastic and Gore-tex are ideal if there is a chance the shoes will see a lot of water. The most stable shoes typically have canvas and/or leather on them which will be alright wet but best kept in the sand.
Common Pitfalls
The largest need to shoes when walking on the beach is for protection from sharp objects hidden in the sand. Anything from shells to trash to glass can hide in the sand and make a deep cut when met with an unprotected foot. Even for short walks a shoe with low stability such as a flip-flop is still better than nothing with hidden sharp objects present.
Where to Buy
There are options for shoes to wear while walking on the beach everywhere. For simple walking shoes such as flip-flops and thong sandals retailers from Wal-Mart and Target to Macy's and Von Maur carry options. These stores and sporting good stores such as Dick's and shoe stores such as DSW also carry thicker options like sport sandals and jelly shoes. Online is always an option, too, with sites like Zappos.com and Piperlime.com having good return policies, sizing charts and product reviews.
Cost
The cost of shoes for walking on the beach can range from $1 flip-flops to $80 walking sandals. The cost depends on brand and mostly materials. Rubber materials will be at the lower price range and genuine leather with thick rubber soles at the higher end of the spectrum.
Comparison Shopping
When comparing shoes for walking on the beach comfort is the ultimate determining fact. Special needs such as high or low arches should look for more supportive shoes. The amount and location of intended wear should also be factored into the purchase the correct shoes.