The symptoms of forearm tendinitis in a person's forearm are described with his or her palm facing up. Tendinitis is frequently used to classify pain from several types of tendon injuries or diseases. More specifically, tendinitis is an inflammation of a person's tendon, which can heal with treatment. Tendinosis occurs when an injured or inflamed tendon does not heal properly and begins to deteriorate, causing pain.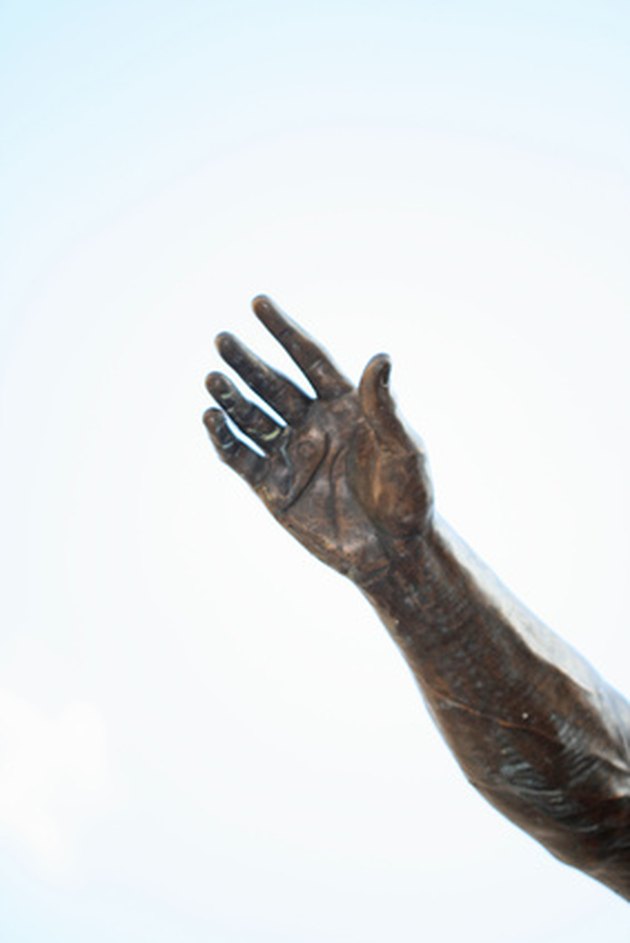 Lateral Pain and Tenderness
Pain and tenderness located on the lateral border or thumb side of a person's forearm and elbow is commonly referred to as "tennis elbow." This affects the extensor muscles and tendons on the posterior surface of the forearm; these muscles and tendons are responsible for bending the back of the hand toward the back of the forearm. A person will experience pain when he grips something or bends his wrist backward. In severe and prolonged cases, pain will increase at rest, his grip strength will decrease, and he will be unable to bend and straighten his elbow, according to Sandra Shultz, Ph.D., and colleagues, in the book "Examination of Musculoskeletal Injuries."
Medial Pain and Tenderness
Repetitive actions, such as baseball pitching and swinging a golf club, cause pain, tenderness and swelling on the medial or little-finger side of a person's elbow and forearm. This condition is commonly referred to as "golfer's elbow." It affects the flexor muscles and tendons, which enable the person to bend the palmar surface of the hand toward the front of the elbow. A person may experience tingling and numbing sensations from her elbow down to her ring and little fingers, according to a 2010 article entitled "Golfer's elbow," published on MayoClinic.com. It may also be difficult for her to rotate her forearm to face her palm upward and downward.
Wrist Pain and Tenderness
Pain and tenderness of tendons in the forearm and crossing the wrist may result from overuse and repetitive motions such as typing or gripping heavy objects. A person with the wrist tendinitis may also experience swelling on the anterior aspect of his wrist. He may hear clicking and grading sounds. The inflammation limits the ability of his tendons to glide smoothly in his wrist, creating much discomfort. Bending and stretching his wrist will cause pain. If this condition does not heal properly, the scar tissue will permanently thicken and decrease the range of motion in his wrist, Schultz warns.
Is This an Emergency?
If you are experiencing serious medical symptoms, seek emergency treatment immediately.