A person with diabetes may experience blood sugar that is too low, known as hypoglycemia, or blood sugar that is too high, known as hyperglycemia. Diabetes is a disease in which the body is not able to properly use insulin, a hormone responsible for regulating blood sugar. Blood sugar fuels the body, and an imbalance of blood sugar and insulin may lead to health complications. A person experiencing a diabetes attack may have a variety of symptoms.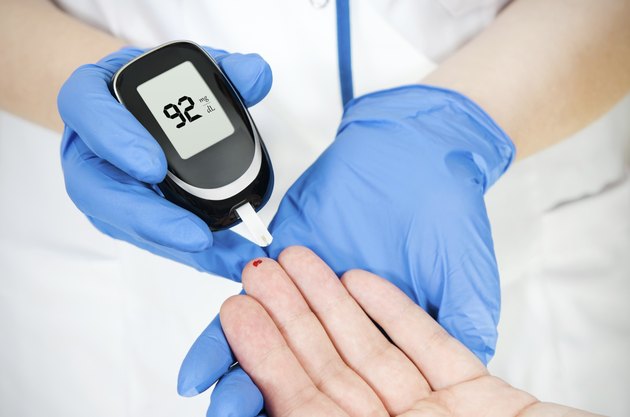 Mental Changes
Mental changes are the first symptoms of blood sugar imbalance. Mental changes happen quickly and can progressively worsen with delayed treatment. Blood sugar that is too low or too high can trigger confusion and problems with memory. A person may seem unusually confused and have trouble recalling recent events or personal information. As blood sugar imbalance worsens, additional physical symptoms may appear while mental changes get worse.
Dizziness may also occur, along with feeling weak. Without treatment, a diabetic may lapse into unconsciousness. He may be difficult or impossible to rouse or engage, and immediate medical attention is needed to prevent further complications.
Thirst and Hunger
High or low blood sugar changes how the body utilizes food for fuel. During high blood sugar states, the body pulls fluid from the cells, leaving tissues without proper hydration. A person with high blood sugar may experience increased thirst in response. Urination may also increase. Left untreated, high blood sugar can progress into ketoacidosis, a potentially life-threatening condition.
Low blood sugar triggers the body to crave additional food for fuel, resulting in increased hunger. MedlinePlus suggests that eating foods with about 15 g of carbohydrates can help prevent even lower blood sugar until medical help can be obtained.
Additional Symptoms
Symptoms of a diabetic emergency may occur suddenly. The University of Maryland Medical Center reports that a person with low blood sugar may begin sweating and develop cold, clammy skin. Sweating is generally profuse and accompanied by additional symptoms. Trembling, blurry or double vision and headache may occur with high or low blood sugar.
High blood sugar may cause fatigue and nausea and vomiting. A person with hyperglycemia may complain of a dry mouth. According to MayoClinic.com, a person with abnormally high blood sugar may also have fruity-smelling breath.