Exercise bikes are built around two basic design: upright and recumbent. Upright bikes are positioned so that you sit upright on the seat, much as you would on a conventional rolling bicycle. On a recumbent you are essentially reclined, with your feet pedaling out in front of you. Many bikes use noisy belts for resistance. Fortunately, better models feature magnetic resistance, which provides a quiet ride. The broad range of available bikes, from high-quality fitness club models to bargain priced bikes, is sure to include one that suits your specific needs.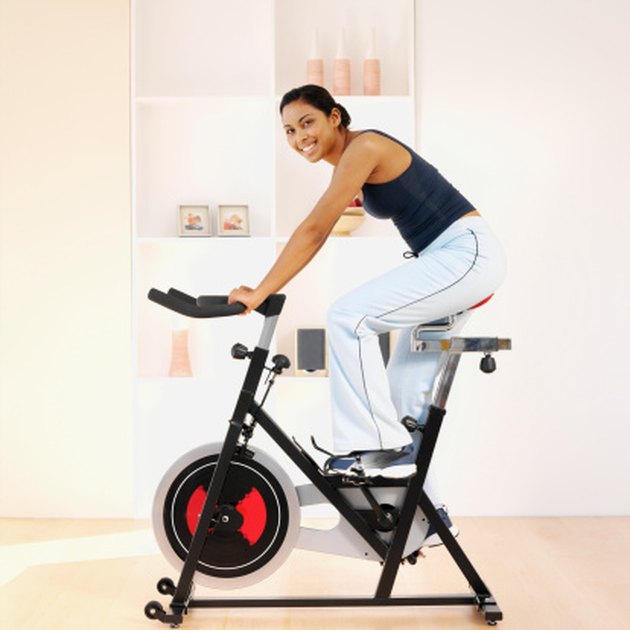 York C750
According to Thetoptensite.com, the York C750 outscored bikes four times its price to win its place at the top of the list. As an upright bike, it takes up less room than a recumbent and provides 16 levels of extremely quiet magnetic resistance. You can choose from any of the 15 exercise programs, while monitoring your heart rate on one of the best LCD consoles on the market. The C750 has an ultra-comfy gel saddle and adjustable handlebars.
Schwinn 230
According to reviews on Consumersearch.com, this bike provides comfort and stability at a reasonable price. The Schwinn 230 offers 12 workout programs to choose from and 16 levels of magnetic resistance, ensuring a quiet ride. Backed by a 10 year warranty on the frame, with one year for mechanical and electrical problems, six months on wear and tear, and 90 days on labor.
Marcy PL-43211
If you are looking for an inexpensive, no-frills upright bike, the Marcy PL-43211 may be the right choice for you. Consumersearch.com rates it as a best value, with two-thirds of Walmart customers giving it a perfect rating. The PL-43211 has eight levels of resistance, and an LCD monitor that shows time, distance, speed and calories burned. It does require some assembly, however, and has only a two-year parts warranty.
Spirit XBR25
This recumbent provides performance and amenities up to fitness center standards. If you are looking for the best priced gym-quality bike, Consumersearch.com says look no further. With 20 quiet resistance levels, a seat that adjusts horizontally to 16 different positions, eight pre-programmed workouts and a Polar heart-rate monitor, this bike has it all. The bike frame and brake are backed by a lifetime warranty, five years for parts, and labor for a full year.
Life Fitness C3 Basic Upright
In addition to electrically powered bikes, some are self-powered. Life Fitness's C3 ranks among the best exercise bikes, according to Med-solver.com. Whisper-quiet performance is combined with an extensive warranty: lifetime for the frame, three years for parts, and one year for labor. It has 20 resistance levels with 10 built-in programs, including 5 different heart-rate-controlled programs. Luxuries like a reading rack, accessory tray, and water bottle holder are also included.
Nautilus NR2000 Recumbent
Another top ranked recumbent, the Nautilus NR200 is durable, self-powered, and extremely quiet. It includes a high definition LED console, with 4 different windows and a variety of monitoring options, a heart rate monitoring system via touch sensors or wireless telemetry belt, six built-in workouts, and a great warranty package.
Nordic Track SL710 Recumbent
A great bike for physical therapy, this recumbent is centered low for easy access and features light up pedals. It provides 10 levels of silent, magnetic resistance, eight workout programs, and an LCD console with an integrated CoolAire fan. It also includes a reading rack, two water bottle holders, and a heart rate monitor.
Schwinn 213 Recumbent
Featuring the quiet magnetic resistance you need, this bike is reasonably priced, with top level performance. Featuring a Bio-Fit seat and wide Bio-Fit pedals, you can go the distance in comfort. It also has 11 workout programs, including 3 heart-rate controlled programs, handgrip heart sensors, a cooling fan, and wheels for easy storage.
Schwinn 112 Upright
Another Schwinn model, this is a budget-priced model with an excellent warranty for its price range. The 16 magnetic resistance levels ensure a quiet workout, while the well-padded seat and adjustable handlebars make it a comfortable ride. It also has heart-rate monitors and built-in workout programs.
Proform GL105 Upright
Although inexpensive, this bike offers a "Personal Trainer Studio," which, according to Med-solver.com is "an interactive feature that allows you to customize your workouts, keep track of the programs performed and follow your cardio progress." Magnetic resistance levels, eight workout programs, including a race program, and a reading rack make this bike a bargain.