Each finger of the hand has three joints. If these joints become swollen it can cause discomfort. This swelling is an inflammation of the surrounding tissues and can be caused either by injury to the joint itself or, more commonly, by arthritis. Symptoms are pain, stiffness and loss of motion. The pain and swelling can be alleviated and prevented through the use of home remedies, over-the-counter medications and physical therapy.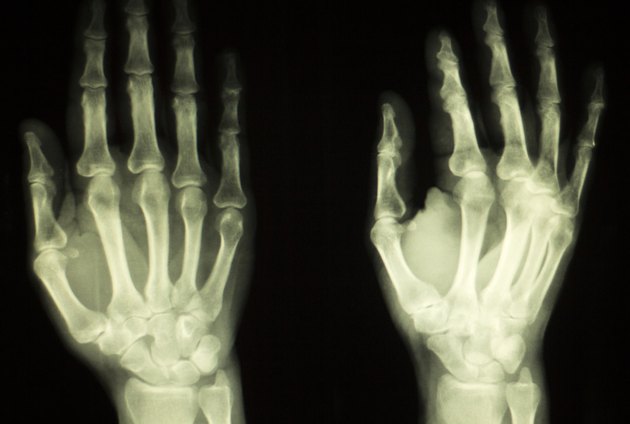 Causes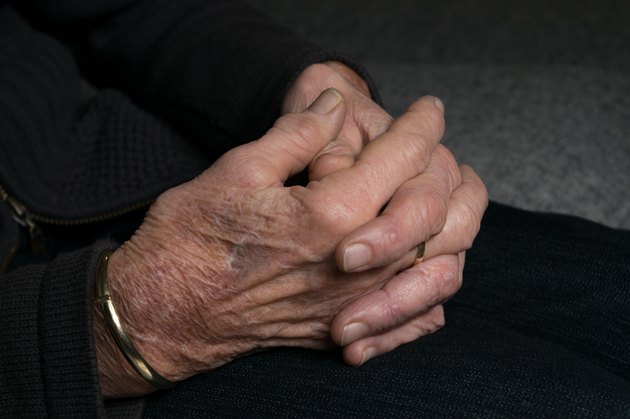 Swelling can have several different causes. All finger joints are coated with a viscous membrane called synovium that lines the joint so it can work properly. In the case of rheumatoid arthritis, this synovium can swell. This causes blood to rush to the joint to heal the inflammation, and it can become warm and swollen. The second cause is an overproduction of synovial fluid, which coats and protects the joint, causing inflammation.
Rheumatoid arthritis can be one cause of the swelling, which is due to a weakened immune system transferred genetically, however, having the gene present does not guarantee one will have rheumatoid arthritis. Though anyone can experience rheumatoid arthritis, it is most common in adults and begins in young to middle age, with a three-to-one ratio of women to men experiencing symptoms. Another type of arthritis, called osteoarthritis, occurs most commonly with age, but it can also be caused by injury to the joint.
Signs and Symptoms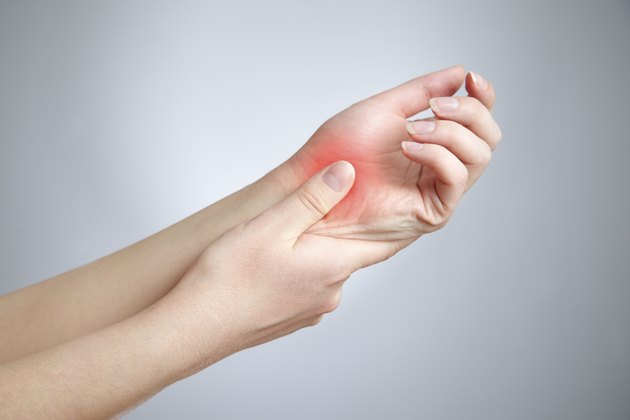 The first signs of swollen joints are pain, stiffness and warmth. This warmth is due to the circulation working overtime to heal the cause of the swelling and fight any infection. This pain is greater upon waking (because circulation decreases during sleep) and can improve with motion. It can also affect sleep due to discomfort and result in loss of activity, which may cause fatigue. To differentiate arthritis from swelling due to injury, arthritis may also cause fever, weight loss, difficulty breathing and/or a skin rash. This is a case in which it is important to seek medical help if swelling does not improve after a few days — it could be a symptom of a more complicated disease.
Treatment
Treatment for joint swelling in the fingers is to reduce swelling, thus decreasing pain. Under the supervision of a physician, physical therapy, medications, exercise and home treatments may be recommended, depending on the pain and severity of the swelling. It is important to eat a balanced diet to help the body's immune system, as certain types of arthritis may cause a loss of appetite and nutrition. Applying either heat or cold to the joints may decrease pain. Try both and see which alleviates symptoms, but not for longer than intervals of 20 minutes each. Heat can help increase circulation, while ice can help to decrease swelling.
Exercise can help with range of motion and increase the production of synovial fluid moving around the joint, increasing circulation. The over-the-counter medication acetaminophen may help with pain, but it will not decrease inflammation. Medications, such as nonsteroidal anti-inflammatories (NSAIDs) like ibuprofen, naproxen sodium or aspirin, may help to bring down swelling.
What to Do if Swelling Continues
If swelling continues even after home remedies or with medication provided by your doctor, seek medical attention. Medication may need to be adjusted or increased. Corticosteroids may need to be prescribed to further decrease swelling, and surgery may be required.