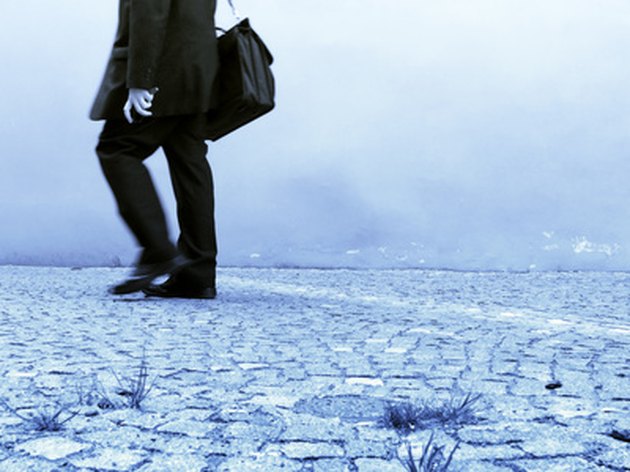 What to Look For
Finding shoes that are good for walking and are appropriate in style for the workplace can be a challenge. Whether your job requires that you walk a lot or you like to walk to and from work or take a walk at lunch, you need supportive shoes that are both comfortable and attractive. When looking for walking shoes that are suitable for work, find an insole that will mold to your feet to prevent foot fatigue. A mesh lining or upper will allow your foot to breathe and keep moisture from building up. A thicker sole, even in a dress shoe, will provide more comfort and more stability when walking. A flexible midsole is also an important feature in any work shoe, but particularly in a shoe meant for a lot of walking. There are many shoes in a sneaker style now available in more work-appropriate colors, so if you can wear a casual shoe for work, this may be an option for you. Some clogs, often called "Euro clogs," are ergonomic, polished for a good work look, have thick soles and have good stability and comfort ratings.
Common Pitfalls
Shop for your walking work shoes at the end of the day, when your feet are slightly swollen and possibly fatigued from being on them a lot. Go right from work, so you'll be wearing the same kind of socks that you would normally wear. Make sure to have both feet fitted. Some people's feet are not identical in size. Walk around in your shoes before buying. If you go up and down stairs, try and find a place to step up and down a few times to get an idea of what it feels like. Check with the store about their return policy, so that you can return them in the proper condition if they don't suit your walking habits.
Where to Buy
Purchase good walking shoes for work at shoe stores, stores that sell work uniforms, online shoe stores and department stores. "Shoes for Crews" offers many different styles of shoes in suitable colors and styles for different types of work.
Cost
As of September, 2010, a black women's Euro Clog with the Shoes For Crews slip-resistant outsole, lightweight, flexible midsole and cushioned insoles with an ergonomic design is offered for $56 through the Shoes For Crews website. Other shoes suitable for walking at work range between $30 and $150 depending on the brand and style of shoe.