Jasmine green tea is simply green tea that has been flavored with jasmine flowers. The benefits of green tea are still being studied, but there is no doubt about the high levels of antioxidants it contains. Jasmine is prized for its sweet fragrance and the delicate flavor of its white blossoms, which makes drinking green tea with jasmine as pleasant as it is healthy.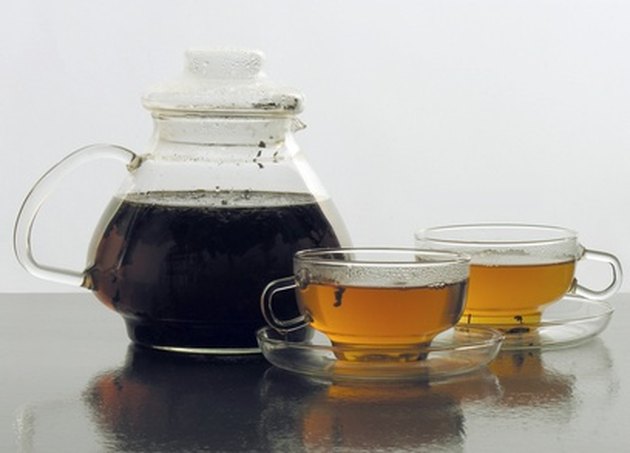 Antioxidants
Green teas contains very high levels of antioxidants, a natural defense against free radicals, which can tamper with DNA and alter cells, leading scientists to believe that they contribute to aging, heart disease and cancer. According to the experts at the University of Maryland Medical Center, antioxidants attack the free radicals that occur in our bodies both naturally and through exposure to environmental toxins, like UV rays from the sun and cigarette smoke.
Arthritis Relief
According to MedLinePlus, preliminary studies suggest that green tea may help stop the cartilage breakdown and inflammation caused by arthritis, though many more studies are needed to confirm this.
Blood Pressure
A 2000 study at the Chinese University of Hong Kong tested compounds extracted from jasmine green tea called "epicatechins." The study showed that, in rats, the epicatechins relaxed arteries that were constricted, allowing blood to flow more freely. Many more studies are needed to be certain that this effect is the same on humans.
Stress Relief
A 2005 study conducted at Kyoto University and published in the European Journal of Applied Physiology tested the effects of jasmine and lavender scents on 24 healthy volunteers. The study concluded that "…the low intensity of jasmine tea odor has sedative effects on both autonomic nerve activity and mood states."