Knee pain is a common complaint in active children who tend to suffer repeated trauma to the legs. But trauma is not the only reason for children to complain of knee pain--it can also be a symptom of a more serious condition. Prompt identification and treatment of these potentially crippling conditions is necessary to avoid long-term disability.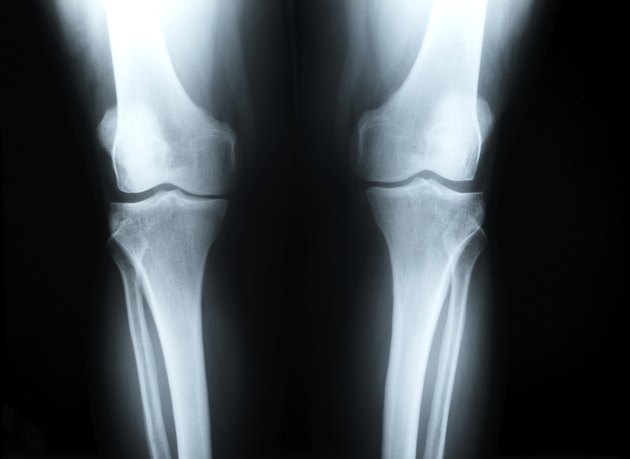 Trauma and Injuries
According to the American Academy of Family Physicians, trauma can cause rupture of the knee ligaments and fractures of the knee bones. The most common traumatic injuries in children are patellar subluxation, or dislocation of the knee cap bone; Osgood-Schlatter disease, a rupture of the growth plate juts below the knee cap that occurs in children experiencing growth spurts; and patellar tendonitis, or inflammation of the patella tendon. Other traumatic injuries--including rupture of the ligaments surrounding the knee--may occur in older children during sports participation. These injuries usually respond to pain control and immobilization, but children with ligament fractures may need corrective surgery, especially if they are involved in sports.
Septic Joint
Septic joint is a bacterial infection of the synovial fluid, the liquid that lubricates the knee joint. Bacteria can invade the joint space either through direct trauma to the area, from an infection close to the knee or via a bloodstream infection. According to the St. Louis Children's Hospital, the most common source of septic arthritis in children is spread of bacteria to the knee from an ear infection. The symptoms of septic joint include fever, knee pain, swelling and redness, and decreased movement of the knee. Diagnosis is by aspirating the joint fluid and evaluating it for the presence of bacteria and white blood cells, the cells that fight infections. Other tests that help the diagnosis include MRI, blood cultures and bone scans. Treatment is with intravenous antibiotics and drainage of the infected fluid. Short-term immobilization and physical therapy are often needed to prevent significant disability.
Juvenile Rheumatoid Arthritis
Juvenile rheumatoid arthritis, or JRA, is a condition of chronic joint inflammation. Although children can outgrow it, it can cause problems in bone development. JRA is an autoimmune disorder, which means that the body's immune system attacks its own tissue. The symptoms of JRA include warmth and redness of the knee, early morning swelling and stiffness, decreased use of the knee, fever, rash, eye inflammation, and decreased appetite with poor weight gain and fatigue. There is no definitive test for JRA, but a diagnosis is made if there's a presence of these symptoms for more than 6 weeks, and elevation of certain blood tests that check for inflammation, like the sed rate test. X-rays can help rule out other conditions. Treatment is with anti-inflammatory drugs, steroids and physical therapy.
Is This an Emergency?
If you are experiencing serious medical symptoms, seek emergency treatment immediately.