The soleus muscle is located on the back of your leg just above the Achilles tendon, extending up to the main calf muscle. Because it's used to generate power for pushing off the ground with the foot, it's subject to injury, overuse and fatigue if not stretched properly. A simple stretching routine before running or walking can help prevent exhaustion of the muscle or even injury.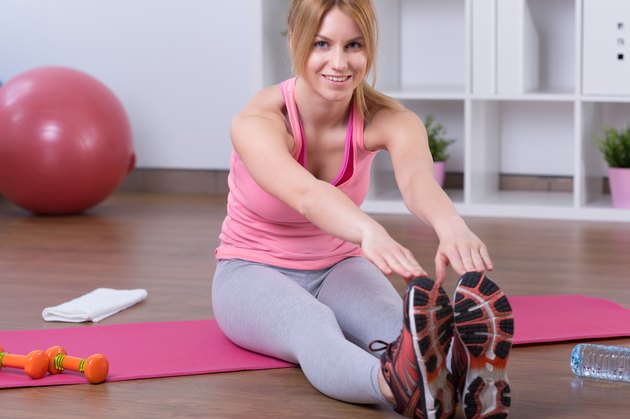 Wall Stretch
One of the easiest and most common ways to stretch out the soleus muscle, the wall stretch involves pushing on a wall or other solid surface in order to create the proper leverage for a quality stretch. Stand several feet away from the wall and place both hands against it. Put one foot about a foot away from the wall and the other foot back three to four feet so it's behind your upper body. Push both feet flat to the floor, then drive your back knee toward the ground. You should begin to feel your soleus muscle stretching the more you push your knee toward the floor. Hold this stretch for 10 to 15 seconds, then relax and switch the position of your feet to stretch out your other leg.
Ledge Stretch
This an advanced soleus stretch requires the use of a ledged surface, such as a step or a curb. Stand with both heels dangling over the edge of the step. Hold onto something for leverage and lift one foot off the step and place the top of that foot on the back of your other leg. Use your body weight to lower your body down as you drop the back of your foot below the top of the step. Your body weight will help stretch out your soleus muscle as you hold for a count of 10 to 15 seconds. Carefully step off the ledge, then repeat for your other leg.
Towel Stretch
Another way to stretch your soleus muscle requires the use of a common house towel or sheet. Lie flat on your back with one leg extended and the other knee bent with that foot flat on the floor. Put a towel or a sheet under the toes of the foot of your bent leg and pull up so your leg is in the air and straight. Pull on the sheet to pull your toes toward your body as you simultaneously use your soleus muscle to push your heel toward the ceiling. You should feel the stretch after several seconds. Hold this position for 10 to 15 seconds, then return your leg to the floor and repeat on the other leg.