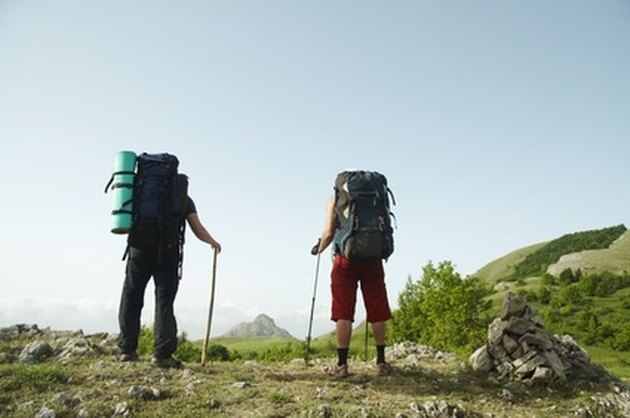 What to Look For
Overpronators put a lot of pressure on the inside of their feet when walking and running. Over time, they can suffer physical injuries, including pain in the knees, ankles and lower back. Therefore, it's important for walking shoes to have adequate support around the arch and firm heels. Dual density midsoles, where the inside of the midsole is made of a thicker material than the outside, can also help counter the effects of overpronation. Depending on your level of overpronation, motion control hiking boots or stability shoes are the best choice.
Common Pitfalls
People who overpronate should avoid buying walking shoes with curved soles, as these can exacerbate any physical ailments. You can gauge a shoe's sole type by looking at the bottom. If the bottom is straight, then the shoes are suitable for overpronators. Cushioned walking shoes are best to avoid, as they don't provide enough support.
Where to Buy
When purchasing walking shoes, it's always a good idea to try on a specific brand a model before buying to check the shoes fit properly. However, many walking shoes available to overpronators can be purchased for less over the internet. Amazon.com offers a variety of brands, including New Balance and Asics, at discount prices. Many shoes come with free shipping and the website has an excellent track record providing good customer service.
Cost
Walking shoes for overpronators can vary in cost. Generally, the more you pay for a pair of shoes, the better quality they are likely to be. Depending on the brand and size of shoe you are looking for, motion control and stability shoes start around $40. The mid-range for this type of shoe falls at around $80 to $125, although they can cost upwards of $150. Prices are based on 2010 figures.
Accessories
If you are walking long distances or on a regular basis, it's a good idea to invest in a pair of comfortable, high quality walking socks. These are available at sporting goods shops and will reduce the risk of developing blisters from the friction between the shoes and your feet.