Sipping black tea with a little dairy or soy milk is the way millions of people start their day. Each of these ingredients is packed with powerful health benefits. The idea that milk or soy milk may reduce the potential benefits in black tea, however, continues to be a topic of debate. Having a clear understanding of how these foods affect each other can help you make healthier choices.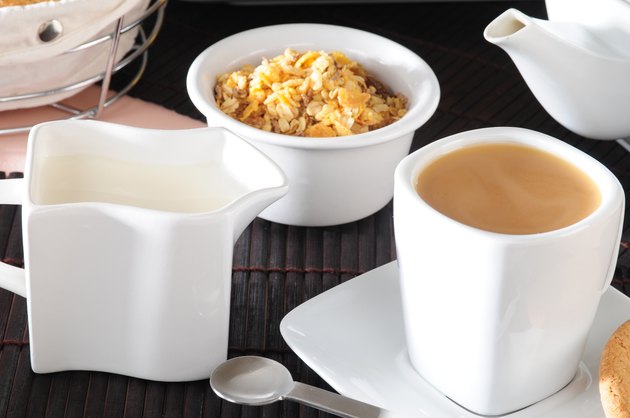 Health Benefits of Black Tea
Polyphenols, which are naturally occurring compounds found in black tea, are largely responsible for its health benefits. These chemical compounds act as antioxidants, which help protect your body from free radicals -- unstable compounds that cause cell damage. An article published in "Oxidative Medicine and Cellular Longevity" in November 2009 noted that long-term consumption of diets rich in plant polyphenols, such as black tea, may help protect against development of cancers, cardiovascular diseases, diabetes, osteoporosis and neurodegenerative diseases.
Health Benefits of Milk
Of all foods that contain calcium, dairy foods -- including milk -- have the highest concentrations per serving of highly absorbable calcium, according to Harvard School of Public Health. If fortified with vitamin D, milk is absorbed even more effectively. Calcium, a mineral crucial to your body's health, performs functions such as building and maintaining bones and teeth, transmitting nerve impulses, regulating your heart's rhythm and blood clotting. A 3-ounce serving of low-fat, 1 percent milk contains 114 milligrams of calcium, which provides 11 percent of the daily value set by the U.S. Food and Drug Administration based on a 2,000-calorie diet.
Health Benefits of Soy Milk
Soy milk is another addition to black tea for those who don't consume dairy products or those who are lactose-intolerant, meaning they lack the enzyme known as lactase, which breaks down sugar in dairy foods. While "regular" milk is derived mostly from cows, soy milk is a plant derivative. It helps reduce the risk of heart disease because it contains isoflavones, which are plant chemicals that lower "bad" cholesterol, known as low-density lipoprotein.
Other Considerations
Regular or soy milk added to black tea may inhibit your body's insulin activity. An article published in the "Journal of Agricultural and Food Chemistry" in November 2002 noted that while black tea is shown to enhance insulin activity, the addition of low-fat or soy milk decreases insulin-enhancing activity. Adding fresh lemon to black tea, however, had no effect on the insulin-enhancing activity and may give tea an antioxidant boost. Meanwhile, a study published in "Free Radical Research" in 2001 that was conducted to determine milk's ability to block the absorption of certain tea flavonoids -- which are polyphenols -- revealed that the bioavailability of these flavonoids is not affected by adding milk.