Modern mothers don't keep a jar of cod liver oil in their cabinets, but moms of the past might have been on to something when they force-fed a spoon of the oil to their children. Of course, you should always ask your child's pediatrician before giving her cod liver oil, but there are several benefits you might consider, as well.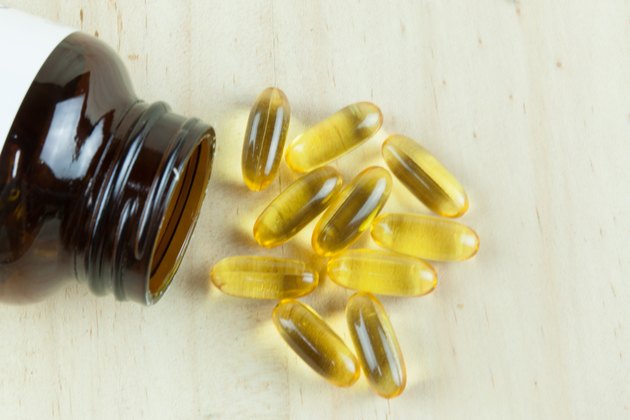 Impressive Vitamin A and Vitamin D
Cod liver is a good source of vitamins A and D, two nutrients that growing children need. A tablespoon of cod liver oil contains 4,080 micrograms of vitamin A, which is more than children of any age need for the entire day. Vitamin A is essential for cell growth and for the health of your child's eyes, heart, lung and kidneys. That same tablespoon of cod liver oil also supplies 1,360 international units of vitamin D, which is more than the 400 to 600 international units children need each day. Vitamin D is essential during childhood because it helps the body absorb calcium for strong bones.
Unsaturated Fats Are Another Plus
Cod liver oil is a good source of unsaturated fats, with about 6.4 grams per tablespoon. Some of these fats are in the form of omega-3 fatty acids, which are good for your child's heart, according to a 2008 article published in the "Medscape Journal of Medicine." Omega-3 fatty acids protect heart health by raising good cholesterol levels and by reducing triglycerides.
It Might Keep Kids Healthier
Giving a child cod liver oil might help boost the immune system and keep her healthier. According to the "Medscape Journal of Medicine," the vitamin A in cod liver oil protects immunity. A 2010 article in the "Journal of the American College of Nutrition" notes that cod liver oil might cut the risk of upper respiratory illness during the winter months, as well. Cod liver oil might play a role in the prevention of middle ear infections, too, according to the New York Eye and Ear Infirmary of Mount Sinai.
Should You Or Shouldn't You?
One concern with a daily dose of cod liver oil is the risk of taking in too much vitamin A. Because vitamin A is fat-soluble, your child will store excess amounts in her liver. The upper limit of vitamin A for children is between 600 and 2,800 micrograms, depending on age, so it's essential to talk to your child's doctor before giving her cod liver oil. They oil might also cause other side effects, such as upset stomach or bad breath, and these are additional reasons to get your doctor's approval.
Is This an Emergency?
If you are experiencing serious medical symptoms, seek emergency treatment immediately.