Groin strains can refer to a number of types of injuries in one or more of a multitude of muscles on the inside of your upper leg or front of your hip. Sports Injury Bulletin explains that many of these muscles are responsible for hip adduction--moving your leg toward your body's center line. Your groin muscles also help stabilize your hips during athletic movement. Each groin strain is different and you should consult a sports medicine specialist if your injury causes significant pain or does not improve with rest. For mild groin strains, follow a few basic treatment steps.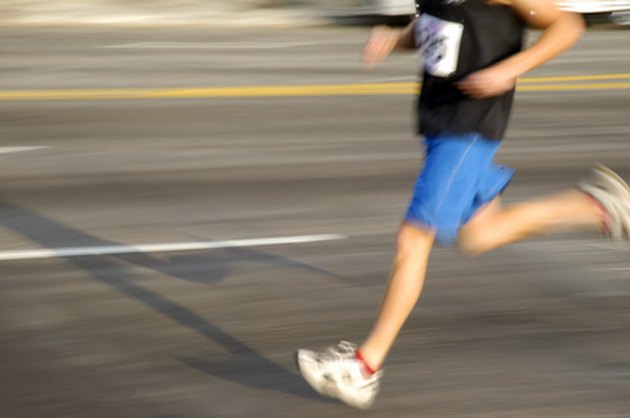 Step 1
Stop exercising as soon as you notice discomfort to minimize the damage to your injured muscle.
Step 2
Take an anti-inflammatory medicine to help reduce pain and swelling.
Step 3
Ice the painful area with an ice pack for 10 to 15 minutes. Do this three times a day for three days.
Step 4
Wrap a fabric bandage around the injured area to compress the area and reduce swelling.
Step 5
Elevate your leg above your heart to help keep inflammation to a minimum.
Step 6
Refrain from athletic-related activities for as long as the area is painful.
Step 7
After three days of cold treatments, apply a hot pack for 10 to 15 minutes. Do this three times a day for three days.
Step 8
Exercise easily once you no longer have pain in the injured area.
Things You'll Need
Anti-inflammatory medicine

Ice pack

Hot pack
Tips
If the pain has not subsided within a week, seek further medical assistance.
Warning
Groin strains can be caused by a variety of factors, including overuse, lack of proper warm-up, or too sudden of a movement.