Metamucil is a fiber supplement available in many forms from drinkable liquids to capsules to wafers. Metamucil formulas come in original and sugar-free versions. According to the company website, Metamucil is the leading brand of fiber supplements recommended by doctors, pharmacists and gastroenterologists. Metamucil aids in regulating bowel movements by increasing the amount of soluble fiber in the intestines. Metamucil is safe for individuals, including children, to use. Consult with a physician if there are any gastrointestinal issues or any trouble with taking additional fiber supplements.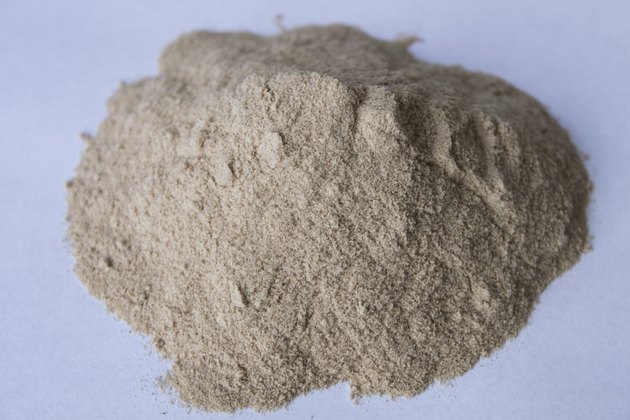 Psyllium Husk
All Metamucil products contain psyllium husk as the active ingredient. According to Michael Tierra, author of "The Way of Herbs," says psyllium husk is a lubricating bulk laxative used to relieve constipation. Psyllium comes from the plantain seed husk. Psyllium is used for the temporary relief of constipation and works by bulking up intestinal waste. Although psyllium is used to relieve constipation, it can have the opposite effect and cause further constipation. It is recommended to include additional water intake during consumption of any product containing psyllium.
Wafer Ingredients
Since Metamucil wafers are cracker-like fiber supplements, the ingredients added are combined to create a dough. Wheat flour, fructose, soy lecithin and ascorbic acid are included in both the apple and cinnamon wafers. Wheat flour as the base is used as a binding and bulking agent. Fructose is sugar made from fruit and gives the wafers a slightly sweet taste. Although soy lecithin is taken as a supplement for heart health, it is added to Metamucil wafers as an emulsion agent to keep the ingredients together. Ascorbic acid, also known as vitamin C, is added to preserve the ingredients for freshness. The apple wafer contains natural and artificial apple flavors. The cinnamon wafer contains natural cinnamon for flavoring. While these ingredients are naturally derived, individuals with soy allergies or sugar restrictions should consult with a physician prior to consuming fiber supplement wafers.
Supplements
Metamucil supplements contain psyllium husk as the main active ingredient in the two varieties of pill form -- one for heart health and the other for strong bones. The heart health pill uses psyllium to reduce cholesterol in the body by eliminating it through bowel movements. The bone health pill adds calcium, potassium and iron to psyllium. Calcium helps to build strong bones. Potassium is necessary for muscle and skeletal functions. Iron is essential for physiological health.
Inactive Ingredients
With psyllium as the main ingredient in all Metamucil products, the remaining ingredients are inactive. They are used as coloring, flavoring, binding or preservation agents. Sucrose, FD&C Yellow No. 6 and citric acid are a few of the inactive ingredients. Sucrose is used as a flavoring. FD&C Yellow No. 6 is a coloring agent, giving the powder form its yellow orange color. Citric acid is added as a preservative.