Choosing shoes is especially important if you have flat feet. If you wear the wrong shoes, you might end up with painfully sore feet, especially your heels. To avoid pain down the road, do your research before venturing shoe shopping.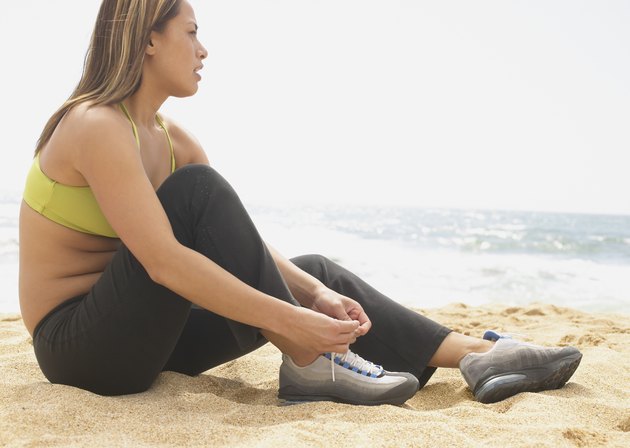 Understanding Flat Feet
Having flat feet means your arch is flat and you don't have a natural space between the middle sole and the ground. If the entire sole touches the ground when you walk, you likely have flat feet. You can be born with flat feet or it can develop from injuries or age. Flat feet can be painless, or you might feel pain in your feet, knees or ankles if you wear the wrong shoes that don't help your legs line up properly. Flat feet can also lead to plantar fasciitis. This condition causes sharp pain in the bottom of your heel, especially when you get up in the morning. The pain can get worse over time if not treated.
Factors to Look for in a Shoe
When looking for new shoes, pay particular attention to a few features. People with flat feet have little cushioning when they walk. New Balance shoes with more cushioning in the insole and greater stability in the shoe overall are best for people with flat feet.
Overpronation Dangers
Another problem with flat feet is overpronation when walking: Your foot rolls too far inward. Then when you push your foot off the ground, most of the force is in your big toe and second toe. Shoes that correct overpronation are a must for people with flat feet.
Shoes for Men and Women
The best New Balance shoes for men and women with flat feet are specifically designed for overpronaters. New Balance recommends W940v2 for women and M940v2 for men. These shoes come with extra cushioning in the heel, a technology called Stabilcore for support when transitioning from heel to toe and a T-beam for greater arch support. These technologies are developed specifically to help people with flat feet. The shoes are available in both running and walking versions.
New Balance Accessories
You can also buy New Balance accessories to help shoes fit better even when they aren't made specifically for people with flat feet. The Ultra Arch insole cushion, made for both men and women, absorbs shock at the heel and forefoot. The insoles are designed to help people with plantar fasciitis, too.