Coughs that are dry, tickly and non-productive — meaning they don't produce phlegm — are typically not associated with serious illnesses. Most often they are caused by environmental factors such as smog or dust, or are the after-effects of an allergic reaction or cold. They can be annoying, irritating and disruptive to sleep. Remedies range from herbal teas and honey to calm and soothe the throat, to over-the-counter medications and drying agents. Always ask your healthcare professional before taking herbs for your dry, tickly cough.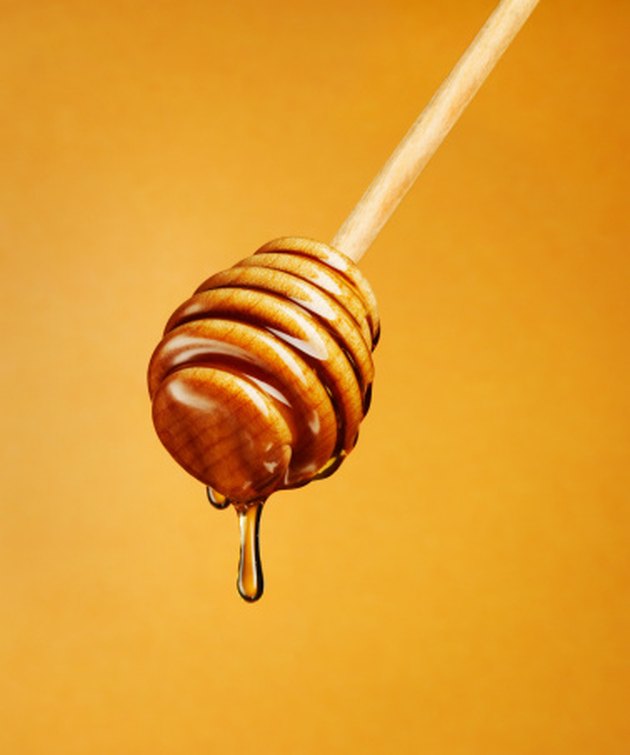 Cough Suppressants
You can sometimes head off a tickly cough by suppressing the cough reflex. If your tickly cough is caused by dust, polluted air or dryness, suck on glycerin tablets and drink plenty of water to keep your throat moist, reducing the urge to cough. If your tickly cough is the residue of a cold or other illness, ask your doctor whether a cough suppressant such as dextromethorphan could help. Other cough suppressants include codeine, linctus and pholcodine, according to Net Doctor.
Antihistamines
If you suffer from chronic nasal congestion or sinusitis, you may recognize the cause of your tickly cough to be the thin trickle of mucus that irritates the back of your throat as it makes its way out of the sinus passages. The mucus stream or post-nasal drip provokes the cough. This type of tickly cough may be quelled with an antihistamine such as diphenhydramine to help dry up the stream. Ask your healthcare provider if an antihistamine could be effective against your tickly cough.
Antispasmodic Herbal Drops and Teas
Mayo Clinic internist Dr. James M. Steckelberg studied the reactions of youngsters with night-time coughs and concluded that honey might be a natural and effective cough suppressant. He noted that tea or warm water splashed with lemon and honey has long been an effective treatment against a sore throat. Honey alone, with its antispasmodic qualities, was just as effective as the cough suppressant dextromethorphan in the study that Dr. Steckelberg referenced. Wild cherry and anise are herbs for teas that also may provide relief for dry, irritating coughs, according to "The Complete Medicinal Herbal." Consult your physician before employing an herbal remedy.