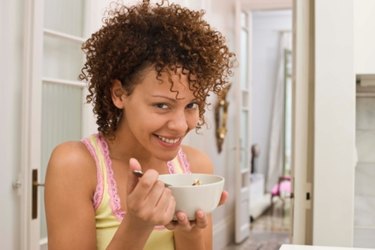 Low blood sugar during the night can be a concern for people with diabetes, especially those on insulin. A 2003 study published in "Diabetes Care" investigated the impact of snack composition on nightly blood sugars in adults with Type 1 diabetes. The researchers concluded that bedtime snacks consisting of a carbohydrate and protein worked best in preventing low blood sugars when the bedtime blood sugar was less than 126 mg/dL.
Cereal and Milk
Most bedtime snacks contain about 15 to 30 g of carbohydrate, or two servings of a carbohydrate-containing food, and a serving of protein. It is not quite understood why protein helps to prevent nightly hypoglycemia, according to the authors of the "Diabetes Care" study, but it is believed to be related to the way protein is metabolized. Cereal and milk provides both carbohydrate and protein. A good bedtime snack consists of 3/4-cup serving of whole-grain cereal and 1-cup of low-fat milk. During cold months, you can try 1/2 cup of hot cereal with 2 tbsp. of raisins and 1 cup of skim milk as a cereal bedtime snack.
Crackers and Peanut Butter
Crackers provide the carbohydrate and peanut butter provides the protein. Spread 12 whole-grain crackers with 3 tsp. of peanut butter or you can also try six whole-grain crackers with 3 tsp. of peanut butter and 1-cup of skim milk. Each of these snacks contain 30 g of carbohydrate.
Sandwiches
Sandwiches also make a good bedtime snack for diabetics. Choose lean sources of meat to decrease your intake of saturated fat. Too much saturated fat in the diet increases blood cholesterol levels, another risk factor for heart disease. Bedtime sandwich ideas include two slices of whole wheat bread with 1 oz. of turkey, 1 oz. of lean ham, 1oz. of low-fat cheese or 1 oz. of canned tuna packed in water mixed with 1 tsp. of low-fat mayonnaise. For a lighter snack, you can also try half of a sandwich with a piece of fresh fruit or a 2/3-cup serving of nonfat sugar-free fruited yogurt. A toasted cheese sandwich with two slices of toasted bread and one slice of low-fat cheese also makes a healthy bedtime snack.
Other Protein and Carbohydrate Combinations
Other protein and carbohydrate snack combinations include 2/3 cup of nonfat sugar-free fruited yogurt with three graham cracker squares, 1 oz. of low-fat cheese with a large pear, a 2 oz. whole wheat bagel with 1 1/2 tsp. of peanut butter, 4 tbsp. of hummus with one small whole wheat pita cut into triangles or 1/4 cup of nonfat cottage cheese with a large banana.