Alcohol abuse and dependence have devastating effects on the psychology and health of alcoholics. Of the health consequences of long-term alcohol abuse, liver damage and cardiovascular issues have received considerable attention. As a result, the effects of chronic alcohol abuse on nutrient absorption and the accompanying deficiencies are often ignored. One of the key nutrients directly affected by excessive alcohol consumption is thiamine. According to the National Institute on Alcohol Abuse and Alcoholism, approximately 80 percent of alcoholics will develop thiamine deficiencies.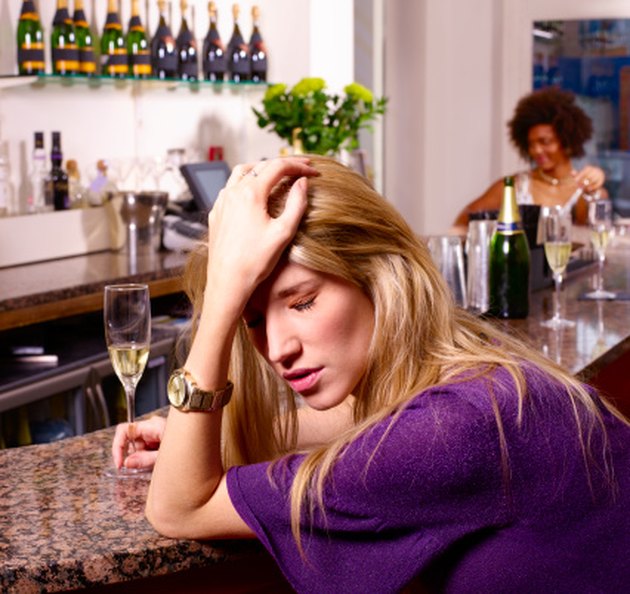 Facts
Thiamine, also called vitamin B1, is vital for carbohydrate metabolism and for the proper functioning of neurotransmitters — chemical messengers in the brain. Thiamine also plays a key role in protecting neurons or brain cells from injury. One of the main mechanisms of alcohol-related brain injury is through thiamine deficiency and long-term thiamine depletion in the brain results in alcohol-induced dementia.
Sources
Since mammals cannot manufacture thiamine, diet is the sole source of this vitamin. Humans typically obtain thiamine from meat, poultry, beans and fortified foods such as bread, pasta and cereal. Most vegetables fruits and dairy are not rich sources of thiamine. For individuals who follow diets that are not rich in thiamine, vitamin supplements, a B-complex blend in particular, can supply this important nutrient.
Interaction
Chronic alcoholics often substitute alcohol for food thereby reducing their proportional intake of dietary thiamine. Even when diet is not a factor, consuming large quantities of alcohol on a regular basis can interfere with how much thiamine is absorbed by the body by reducing thiamine uptake in the gut, and by preventing cells from absorbing adequate amounts of the vitamin.
Disease
Thiamine is critical to the normal functioning of several organs. The principal organ that is affected when thiamine is severely depleted is the brain, however, according to the journal "Alcohol and Alcoholism." This can result in neurological problems including Wernicke-Korsakoff's syndrome and Beriberi. Symptoms include, but are not limited to, issues with vision, memory and co-ordination. Left untreated, the disease can progress to psychosis and the slow degeneration of certain areas of the brain.
Considerations
Due to the wide availability of nutrition and fortified foods, thiamine deficiency in developed countries typically results from alcoholism. Alcoholics need to be especially conscious of the symptoms of thiamine deficiency since their bodies lose the ability to absorb normal amounts of thiamine when available. Treatment involves physician-assisted alcohol withdrawal, restoring healthy eating habits and supplementing heavily with thiamine through recovery.