Diets that promise to help you reduce belly fat may actually work, though most often the same effects can be achieved through old-fashioned reduced-calorie, low-fat plans. There is not sufficient research to prove that targeted diet plans work. To lose belly fat and tighten loose skin, the basic rules of diet and exercise apply.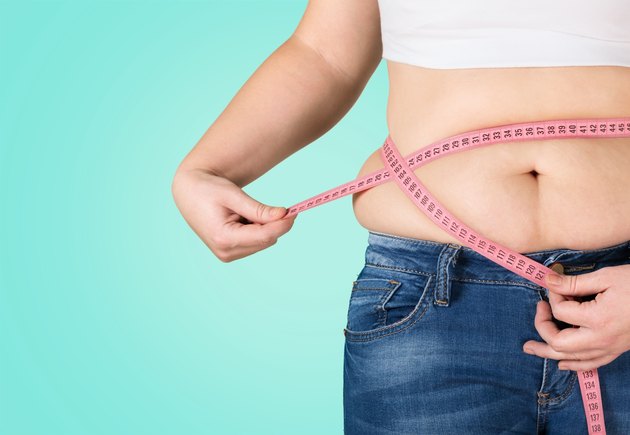 Step 1
Commit to eating a healthy diet. For weight loss, consume at least 1,000 calories per day but no more than 1,500. Depending on your body mass index, height, weight, activity level and goals, those numbers may vary slightly.
Step 2
Eat 2 tsp. of peanut butter, a boiled egg, serving of turkey or other lean protein snack. High-protein foods can help you build stomach muscle and increase your energy for workouts. Keep in mind, however, building muscle depends on your genes, how much exercise you do and whether you consume enough calories, according to the President's Council on Physical Fitness and Sports. The Council notes most Americans eat enough protein to build muscle. Any excess is simply eliminated or stored as fat.
Step 3
Perform simple strength training exercises that target the tummy area. Examples include traditional crunches, ball routine exercises and whole-body poses such as are performed in Pilates or yoga routines. If you're a beginner, you may benefit from a class or one-on-one session with a trainer.
Step 4
Drink at least eight tall glasses of water to lose water weight and help keep skin healthy and elastic. While drinking more water may seem like the wrong approach to losing water weight, consuming more actually encourages your body to stop retaining water.
Step 5
During and after workouts sip a low-calorie sports drink. The President's Council on Physical Fitness and Sports says carbohydrates in sports drinks supply extra energy. Look for beverages with 150 to 18 g of carbohydrate per eight oz. of fluid. The extra boost will help you amp up your ab routine and avoid crashing afterwards.
Tip
Commit to at least 150 minutes a week of aerobic exercise to increase your chances of reducing your belly fat.
Warning
Check with your health-care provider before beginning an exercise program for the first time or if you have been away from fitness programs for a while, or if you have any chronic health issues.