Supplements or prescription medications that cause the blood vessels to dilate or open are called vasodilators. Vasodilators are used to treat various medical conditions, such as hypertension and coronary artery disease, a heart condition that causes narrowing of the vessels supplying blood to the heart. Vasodilators also work directly on the muscle tissues of the arteries, the type of blood vessel that transports oxygenated blood from the heart, causing them to relax. As a result, blood flows more easily through the arteries and this decreases the work load of the heart.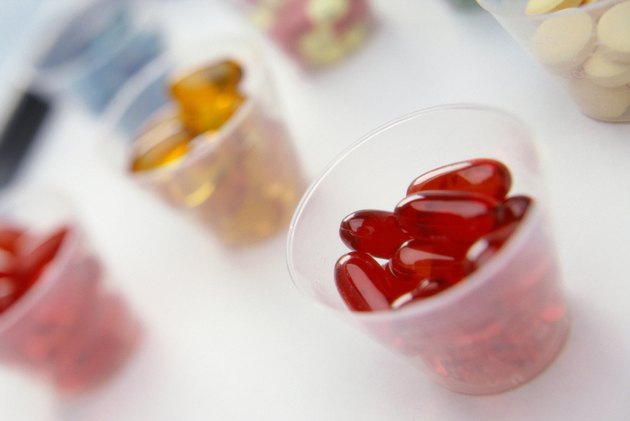 Niacin Supplements
Niacin, or vitamin B-3, supplements are available in the form of nicotinamide, or in the form of over-the-counter nicotinic acid preparations. The Linus Pauling Institute reports that nicotinic acid can cause a 10-percent reduction in the total blood cholesterol, a 27 percent in the development of nonfatal heart attacks and another 20 percent reduction in the incidence of stroke. Nicotinic acid is also a potent vasodilator, and high doses of niacin supplement in the form of nicotinic acid may cause dilation of superficial blood vessels of the face clinically observed as flushing of the face. The usual adult dose is 100 milligrams three times daily.
Magnesium Supplements
According to Linus Pauling Institute, magnesium supplement at a dose of 730 milligrams per day can cause a 12-percent improvement in the normal dilation response of arteries. Magnesium supplementation may also decrease artery wall dysfunction, resulting in better blood circulation. As a consequence of better blood flow, more blood can reach the heart and the muscles of both upper and lower extremities, potentially leading to a noticeable improvement in overall exercise and physical stress tolerance.
Arginine Supplements
Arginine is conditionally essential amino acid because you need to consume dietary arginine, although it can also be synthesized from other amino acids within the body. Arginine is the raw material for production of nitric oxide in the body, a chemical also known as endothelium-derived relaxation factor. Nitric oxide causes vasodilation, making it useful in the maintenance of normal blood pressure and healthy heart circulation. A daily dose of 6 to 30 grams daily is considered safe and may be beneficial for health.
What To Do
While these supplements are generally considered safe, you should discuss their use with your doctor before adding them to your regimen, to determine the best course of action for your situation.