The liver is at the front line of your body's natural defense system against many environmental toxins in the world today. Plus, according to the British Liver Trust, liver disease has been on the rise in recent years. Although you cannot control all of the pollutants that tax your liver on a daily basis, you can give it a boost by incorporating detoxifying foods, such as beets, into your diet.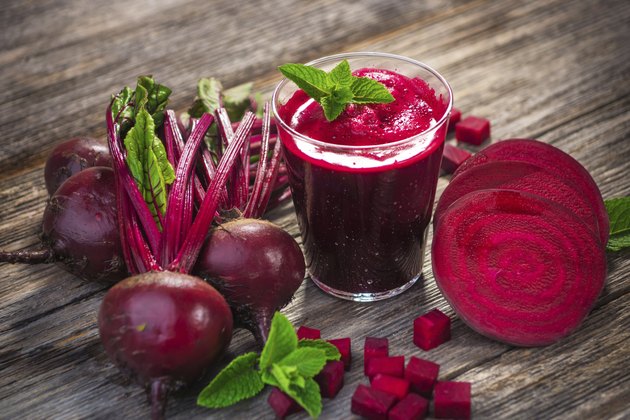 Significance
The liver is literally your body's filtration system. It processes the chemicals you encounter and synthesizes the nutrients you ingest into usable compounds. As the largest organ in the body, it has two sources of blood that pump into it, the hepatic artery and the portal vein. With such a heavy workload, it's not hard to imagine how important this organ is to your overall health and well being. In fact, as the American Liver Foundation explains, "Anything that keeps your liver from doing its job may put your life in danger."
Effects
Packed with iron, calcium, betaine, B vitamins and antioxidants, beets are one of the liver's best resources for maintaining optimum health. Emily A. Kane, N.D., Lac, explains that "Beets improve liver function largely by thinning the bile, allowing it to flow more freely through the liver and into the small intestine."
In addition, the American Liver Foundation indicates that beets help heal liver disease in ongoing trials. Plus, a 2007 study by Laszlo Vali published in the journal "Nutrition" demonstrated that beets have many beneficial antioxidant properties.
Benefits
Because the liver is responsible for at least 500 functions within your body, keeping it in optimal condition can help you in a number of ways. The American Liver Foundation indicates that keeping it strong and unpolluted can increase your energy level, boost your immune system and regulate your system's natural metabolic process. Plus, according to The New York Times, a healthy liver can even affect your mood, making you less agitated and more focused.
Additional Liver Support
Beyond beets, there are some additional ways you can help maintain a powerful liver. Other liver-cleansing foods include lemons, artichokes, cabbage, oats, apples and celery. In addition, cinnamon, licorice and turmeric support liver function. Holistic specialists also recommend burdock root and dandelion root. However, as with any new treatment, be sure to consult your doctor before incorporating these or any other supplements into your diet. Lastly, avoiding alcohol, drugs, tobacco and other toxic substances will help sustain proper liver function.
Incorporating Beets into Your Diet
There are several ways to prepare beets. Most people cut off the leaves and then steam the reddish bulb with the skin intact to avoid losing any vital nutrients. You can also bake or roast them. They're also often grated raw for salads. In addition, the greens are edible and packed with nutrients. Considered to be in the same family as Swiss chard, the greens are most often steamed before they are eaten.
Is This an Emergency?
If you are experiencing serious medical symptoms, seek emergency treatment immediately.