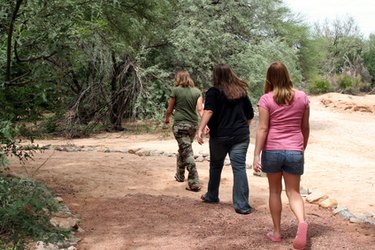 What to Look For
A recent study by Himan and Bennell called the "Advances in Insoles and Shoes for Knee Osteoarthritis," found that shoes that were flat and low while remaining flexible instead of stabilizing were one of the best choices for those with knee pain. Walking shoes that allow you to have optimal foot movement within the shoe will help to alleviate pain when walking. Over pronation is a problem for you if you have bad knees. Choosing a shoe that has excellent padding around the heel and ankle, combined with a flexible front, will help give you the relief your knees need.
Common Pitfalls
Not all shoes are created equal. You may think that brand names are over-hyped and too expensive, but regardless of the price of the shoe, you need to make sure quality materials have been used. Quality materials are important because you need adequate padding and flexibility to give your knees optimal comfort. These materials cost extra money to produce, which results in a more expensive shoe. Purchasing a cheap pair of shoes will probably lead you to spend more money in the long-run whether on treatment for your knees, or on another pair of shoes.
Where to Buy
While you may be able to find the best deals for shoes by searching online, you might want to consider going to a running or athletic store to purchase your shoes. This is especially true when buying your first pair. A sales associate at a running store will measure your foot, not just the length, but the arch and the width and will probably be able to recommend the best shoes for your knees.
Cost
A good pair of walking shoes will cost between $60 and $120 dollars. You may be able to purchase a cheaper pair on sale usually for about 25 percent off. You can purchase a cheap pair of walking shoes for as little as $40 but watch out for cheap materials and limited support.
Comparison Shopping
The best walking shoes are flexible, cushioned and absorb the shock of each step. New Balance WW755 are lined with ABZORB cushioning and a molded midsole. Together these two qualities make this shoe good for walking as well as everyday use. Another quality walking shoe is the Avia A325W. Like the New Balance, this shoe contains a molded inside for maximum comfort and stability without restricting the movement of the foot.
Insider Tips
When buying a pair of walking shoes make sure to measure your arch. This can be done by placing your damp foot on a piece of paper. If you do not see very much of your foot on the print, then you probably have a high arch, and if your feet are wide they are flat.