When the temperature drops, it is normal for your feet, hands and nose to feel cold before other parts of your body. This is because it takes longer for blood to circulate to these areas, especially in extreme conditions when it is concentrated on your vital organs to keep them warm. However, if your feet and nose constantly feel cold, even when it's warm outside, you may have an underlying condition, such as poor circulation, or in the most serious cases, frostbite, says the Foot Pain Explained website. If your symptoms are not remedied by simple measures, such as getting out of the cold and wearing warmer clothing, you should seek medical advice immediately.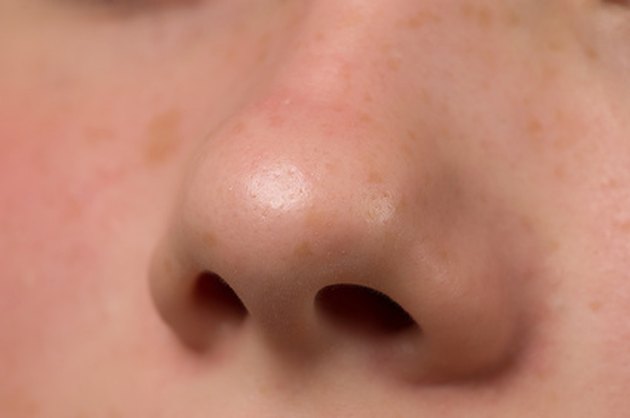 Causes of Cold Nose and Feet
There are a variety of reasons your nose or your feet might feel cold, ranging from the obvious and easily fixed to the very serious. The most common reason these parts of your body will feel cold is exposure to cold or wet weather. As already explained, your body will protect the torso from cold conditions first, and the reduced blood flow is what makes your extremities cooler than, for example, your stomach or chest. If exposed to extremely cold weather for a long period of time, the feet and nose can be among the first parts of the body to develop frostnip or frostbite. This is when ice crystals form in the first layer of the skin, which is frostnip, or even deeper, frostbite, which can cause permanent damage to the blood vessels, says the emedicinehealth website. Your feet and nose will also be colder if you suffer from poor circulation or a heart condition, says the Foot Pain Explained website. This is because these conditions mean your system is less effective at pumping blood out to the extremities. Thyroid problems are another cause of cold feet and nose because this gland produces hormones that help to regulate your body temperature, says the NHS Choices website for the UK's National Health Service.
Common Symptoms
The initial symptom of a cold nose and cold feet is, of course, these areas feeling chillier than the rest of your body. However, over time, you may find that your nose and feet start to tingle or become numb, take on a red appearance and feel itchy or as if they are burning, says the emedicinehealth website. In more serious cases, when circulation is particularly poor, the areas may turn blue and, if you are suffering from frostnip or frostbite, they will appear white and waxy.
Treatment
It is important that you only attempt home treatment of a cold nose and feet if your symptoms are mild. If you suspect your symptoms are due to an underlying health condition or extreme exposure to the cold, seek medical help immediately. In less serious cases, initial treatment should involve making sure the affected areas are clean and dry and then applying warmth, says the emedicinehealth website. In the case of cold feet, a good pair of socks and slippers will normally do the trick and a warm -- but not hot -- compress will see to your nose. To avoid burning yourself, it is extremely important that you do not make the water boiling hot, as the affected body parts are likely to be numb and may not register temperatures accurately, says the emedicinehealth website. When the area returns to a normal color, you can remove it from the heat, dry thoroughly and cover with warm clothing.