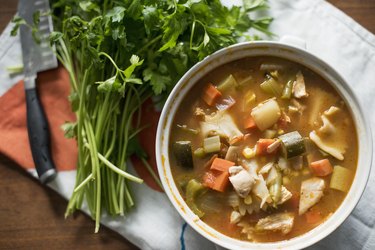 Veggies are a great source of nutrients that support longevity and overall health, and serving up a warm, comforting bowl of vegetable soup is a great way to eat more of them. Depending on your health goals, you may want to keep your vegetable soup calories low, in which case, you should make it at home.
The nutrition and calories in veggie soup can vary significantly based on how it's made. You can buy it at the grocery store and at restaurants, but premade veggie soup is often higher in calories and sodium. It may also have added ingredients that take away from the nutrition in vegetable soup.
For vegetable soup that's both delicious and nutritiously satisfying, all you have to do is combine your favorite fresh veggies in a stock pot with vegetable broth and add any other ingredients — legumes, grains and protein sources — to your liking.
Tip
Vegetable soup calories depend on the ingredients, but homemade veggie soup can have as few as 60 calories per cup. Homemade veggie soup tends to have fewer calories and less sodium than store-bought or restaurant vegetable soup.
Vegetable Soup Key Ingredients
A good soup does not have to have a long list of ingredients or require a complicated recipe. Hearty vegetable soup can be made quickly, and the leftovers can be used for meal prep for the rest of the week.
‌The Base:‌ To keep things vegan or vegetarian, use low-sodium vegetable stock or vegetable broth. This adds flavor to the soup.
‌The Veggies:‌ This can vary depending on your preferences and any food allergies you may have. A classic vegetable soup has carrots, celery, potatoes and tomatoes. You can also add zucchini, squash, green beans, broccoli, green peas, yellow corn, bell pepper and spinach.
‌The Protein:‌ You can also incorporate legumes, such as lentils and beans. Minestrone soup, for example, contains red kidney beans and white beans. Some people also opt to make a chicken or turkey soup recipe for more protein.
Tip
You can amp up the flavor of your vegetable soup by adding fresh herbs, spices and sauces like vinegar, white wine or citrus juice.
Vegetable Soup Calories and Nutrition
Vegetable soup calories and other nutrition facts are important to people with specific health goals and conditions. You can ensure the calories in veggie soup are nutrient-dense by making yours at home.
Pre-packaged foods, such as frozen and canned goods, tend to have more calories, carbs, sodium and sugar, which are tied to a number of health conditions when eaten in excess.
According to the USDA, 1 cup of homemade vegetable soup made with tomatoes, green snap peas, carrots, corn, potatoes, butter beans, okra, green beans, onions, celery and fresh parsley will give you about:
Calories​: 89
​Total fat​: 2 g

​Saturated fat​: 0 g
​Trans fat​: 0 g

​Cholesterol​: 0 mg
​Sodium​: 559 mg
​Total carbs​: 15 g

​Dietary fiber​: 3 g
​Sugar​: 3 g

​Protein​: 4 g
For comparison, the USDA shows 1 cup of canned vegetable soup that's been prepared with water has:
Calories​: 67
​Total fat​: 2 g

​Saturated fat​: 0 g
​Trans fat​: 0 g

​Cholesterol​: 0 mg
​Sodium​: 815 mg
​Total carbs​: 12 g

​Dietary fiber​: 1 g
​Sugar​: 4 g

​Protein​: 2 g
Vegetable Soup Recipes to Try
Even if you are not trying to lose weight, making homemade vegetable soup is a great way to get more nutrients into your diet. Get inspired to make the best veggie soup with our: