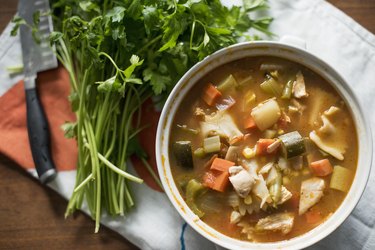 There is nothing more comforting than a bowl of homemade vegetable soup. It is even better when the vegetable soup calories align with your health and nutrition goals. Many weight loss soups consist of vegetables and some grains and legumes.
However, not all veggie soups are made equally. You can buy vegetable soup at the grocery store or even at some restaurants. When bought premade, you run the risk of picking a soup that is high in sodium. It may also contain added ingredients that distract from the vegetable soup nutrition benefits.
To turn your homemade vegetable soup recipe into a weight loss soup, make it at home and with minimal added ingredients. Focus on fresh vegetables cooked in a vegetable broth and add other ingredients — legumes, grains and protein sources — to your liking.
Tip
Vegetable soup calories depend on the ingredients, but homemade veggie soup can contain as few as 60 calories per cup. Homemade soup also tends to have fewer calories and sodium than store-bought or restaurant soup.
Vegetable Soup Ingredients
A good weight loss soup does not have to have a long list of ingredients or require a complicated recipe to follow. Hearty vegetable soup can be made quickly, and the leftovers can be used as meal prep for the rest of the week.
To make vegetable soup, start with a base. To keep things vegan or vegetarian, go for a low-sodium vegetable stock or vegetable broth. This adds flavor and creaminess to the soup.
Then, add your vegetables. This can vary depending on your preferences or even any food allergies you may have. A classic vegetable soup contains carrots, celery, potatoes and tomatoes. You can also add zucchini, squash, green beans, broccoli, green peas, yellow corn, bell pepper and spinach.
To pack in the protein, you can also incorporate legumes, such as lentils and beans. Minestrone soup, for example, contains red kidney beans and white beans. Some people also opt to include chicken or turkey in their soup recipe.
According to Mayo Clinic, you can amp up the flavor of your vegetable soup by adding fresh herbs, spices and sauces like vinegar, white wine or citrus juice.
Vegetable Soup Nutrition
Vegetable soup calories and other nutrition facts are important to people with targeted health goals. For example, if your goal is to lose weight, you may want to take steps to reduce the calories in your soup. This can be done by using low-calorie vegetables and reducing your portion size.
Another factor to consider regarding vegetable soup calories is where and how the soup is prepared. It is well-known that pre-packaged foods, such as frozen and canned goods, tend to contain higher amounts of calories, carbs, sodium, sugar, etc. To keep your weight loss soup low in calories, make it at home rather than ordering take-out or buying it at the grocery store.
According to the USDA, homemade vegetable soup nutrition facts made with tomatoes, carrots, corn, potatoes, butter beans, okra, green beans, onions, celery, and water include:
60 calories per 1 cup
3 grams of protein
0 grams of fat
13.52 grams of carbohydrates
3 grams of fiber
37 mg of sodium
For comparison, the USDA states that canned vegetable soup nutrition facts, such as the brand Healthy Choice, Garden Vegetable, include:
125 calories per 1 cup
5.24 grams of protein
0.52 grams of fat
24.7 grams of carbohydrates
4.7 grams of fiber
480 mg of sodium
Make Homemade Vegetable Soup
Preparing food on a low-calorie diet can be challenging. Making weight loss soup recipes is a great way to enjoy flavorful, comforting food without going over your calorie target.