Whether you visit a fancy steakhouse or a restaurant with a seafood buffet, you don't have to look hard to find a shrimp cocktail. Celebrated chef and food writer James Beard once called the shrimp cocktail the most popular appetizer in the country, according to an "Orlando Sentinel" article. This appetizer, which pairs cooked shrimp with tangy cocktail sauce, is usually served chilled and over ice.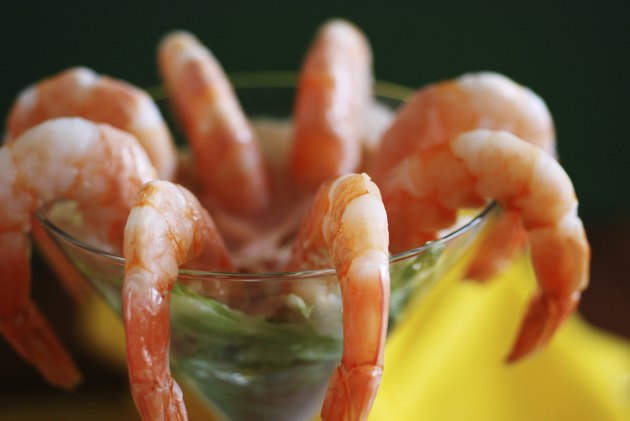 Start Your Meal Off Right
The exact caloric content of your shrimp cocktail depends on the size and number of shrimp you consume and the size of the serving of cocktail sauce. The Food Network suggests eight 21- to 25-count shrimp are appropriate for a shrimp cocktail. The numbers indicate how many shrimp of this size make up 1 pound. U.S. Department of Agriculture data indicates shrimp contain about 99 calories per 100 grams. One 21- to 25-count shrimp weighs roughly 0.04 pound, or about 18 grams; eight shrimp of this size weigh about 144 grams and contain about 143 calories. One-quarter of a cup of cocktail sauce, notes the USDA, has 74 calories. As such, a standard shrimp cocktail has about 217 calories.