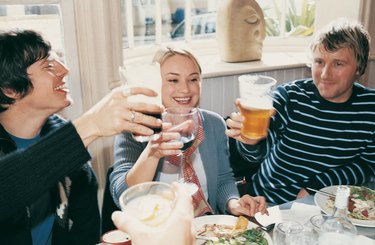 Natural Ice is a low-cost beer that is sometimes referred to as "Natty Ice." The product is made by Anheuser-Busch and can be located in most stores that sell alcoholic beverages. Like most beers, Natural Ice beer is high in calories.
Serving
One 12 oz. can of Natural Ice is equal to a serving. Each can contains approximately 355 ml of beer. According to Beer100.com, Natural Ice contains an alcohol content of 5.9 percent.
Calories
Every 12-oz. serving of Natural Ice contains 157 calories. Of those calories, 0 come from fat, says My Calorie Counter.
Nutrition
A serving has 784 mg of sodium, 9 g of carbohydrates, 2 g of dietary fiber and 1 g of protein. One serving also provides 33 percent of your daily vitamin C requirements, 44 percent of daily iron and 2 percent of daily calcium, based on a 2,000 calorie diet.