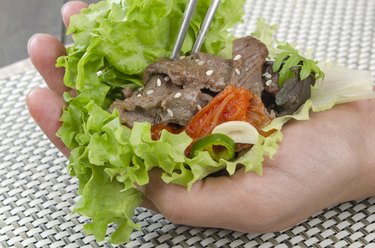 Lettuce wraps are a popular appetizer or small entree at many Asian-style restaurants. They typically feature a chopped chicken dish that you can spoon into a piece of lettuce, which functions as a wrapper. While lettuce wraps seem like a good nutritional choice, they should not be considered a low-calorie food.
Calories
One plate of lettuce wraps at restaurant franchise P.F. Chang's, for example, has four servings. Each 5-ounce serving of lettuce wraps has 160 calories, P.F. Chang's reports on it website.
Calories From Nutrients
One serving of lettuce wraps has 7 grams of fat, giving you 63 calories from fat. The 17 g of carbohydrates have 68 calories, and the 8 g of protein yield 32 calories, according to P.F. Chang's.
Considerations
If you'd like to save some calories, ask for a vegetarian version of the same lettuce wraps. At P.F. Chang's, switching to vegetarian lettuce wraps will save you 20 calories per serving or 80 calories per plate. You will also cut 24 g of carbs and 8 g of protein from the plate.