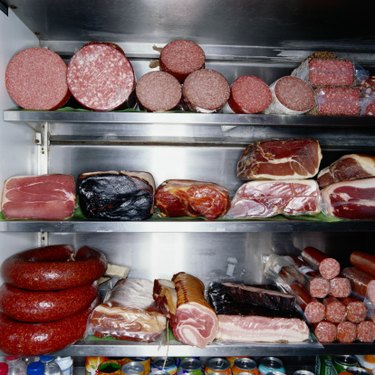 Traditional pasta carbonara uses raw egg, pancetta, parmesan cheese and cracked black pepper to create a sauce. This classic bacon-and-egg dish is an Italian cuisine staple and is a favorite across continents.
Homemade
Pasta carbonara is not a labor intensive dish. Most recipes available on AllRecipes.com are between four to six steps. The calorie count for one of the recipies, such as Spaghetti Carbonara, is 630 calories per serving.
Olive Garden Carbonara
The national Olive Garden chain of restaurants serves a different take on the dish. Chicken and shrimp top bucatini pasta mixed with a parmesan, pancetta, roasted red pepper cream sauce. One serving of the restaurant's dish has 1,440 calories.
Fazoli's
Fazoli's is a national chain of fast-food Italian restaurants. Its chicken carbonara dish is defined by the menu as spaghetti in Alfredo sauce with crumbled bacon, grilled chicken and broccoli. One serving has 800 calories.
The Cheesecake Factory
When the Center for Science in the Public Interest completed its Xtreme Eating 2010 feature, it looked to The Cheesecake Factory and its pasta carbonara dish. The entree has 2,130 calories per order, which increases to 2,290 if you order it with chicken, according to NutriSoft's calorie chart.