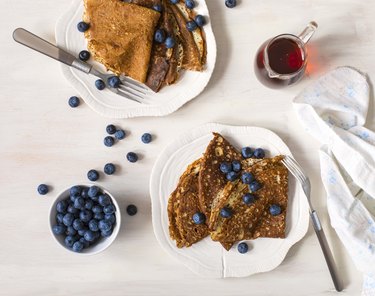 Before you reach for something sweet, you may want to weigh the pros and cons of maple syrup versus sugar. While they both contribute to your overall calories and sugar totals for the day, there are some significant differences in how they are processed that you should consider.
Maple Syrup Versus Sugar
When it comes to choosing the right sweetener, the question of maple syrup versus sugar is one that often comes up. If you consider the refining process of maple syrup, which involves tapping maple trees for sap and then boiling the sap into syrup, maple syrup is the better choice since it is relatively unprocessed.
White or refined sugar, on the other hand, requires a large amount of processing from either sugar cane or sugar beets, according to the Sugar Association. As a result, it lacks any real nutritional value. Which means, there are no vitamins or minerals left in the final product. And while maple syrup may not be a winner in the vitamin category, it does contain a variety of essential and trace minerals.
While some studies suggest that the antioxidants in maple syrup make it healthier than regular sugar, it's still sugar with no fiber attached, according to the Cleveland Clinic. Therefore, if you consume too much, you can still experience swings in your blood sugar and insulin. That said, the maple syrup sugar content is still less than white sugar, which makes it a better choice when counting your total sugar consumption for the day.
Maple Syrup and Sugar Facts
Weighing the pros and cons of maple syrup versus sugar requires accurate nutritional information. According to the USDA, 1 tablespoon of pure maple syrup has approximately 52 calories and 13.4 grams of carbohydrate, with 12.1 grams coming from sugar.
The amount of protein is minimal with only 0.008 grams, and the fat content is 0.012 grams. Maple syrup also contains several essential and trace minerals in various amounts including, 20.4 milligrams of calcium, 4.2 milligrams of magnesium, 42.4 milligrams of potassium and 2.4 milligrams of sodium.
According to the USDA, 1 tablespoon of white sugar has approximately 48.9 calories, 12.6 grams of carbohydrate, with 12.57 grams coming from sugar and 0 grams of both fat and protein. There is no measurable amount of vitamins or minerals, with the majority containing 0 grams.
Based on the nutritional information and how each item is processed, going with maple syrup seems to be the healthier option, for a variety of reasons. The maple syrup calories are less than white sugar, which makes it a better choice when counting calories.
Plus, the maple syrup sugar content is less than white sugar, which helps keep your daily sugar totals down. And finally, the essential and trace minerals, while not significant, are still higher in maple syrup than they are in white sugar.
How Much Sugar Per Day?
Whether you like to drizzle maple syrup on your pancakes or add a little sugar to your coffee, keeping an eye on the amount of sugar you consume in a day is important. Fortunately, the American Heart Association has set an upper limit as a guide to help you monitor your sugar intake.
For women, they recommend a maximum of 100 calories or 6 teaspoons of sugar per day. Men, because they are generally taller and weigh more, should not exceed 150 calories or 9 teaspoons per day.
While 6 to 9 teaspoons of sugar may not seem like much, it can add up quickly. For example, one can of cola contain as much as 10 1/4 teaspoons. And if 1 teaspoon of sugar has 16 calories, that means a daily soda habit will net you about 160 calories. With that in mind, deciding between maple syrup versus sugar, the clear choice is maple syrup.
Until recently, product nutrition labels did not have to show the percentage of calories from added sugars, according to the Centers for Disease Control and Prevention. It only identified the general label of sugar, which included all forms of sugar. However, the U.S. Food and Drug Administration issued new regulations requiring all packaged food and beverage containers produced by manufacturers to carry the new label.