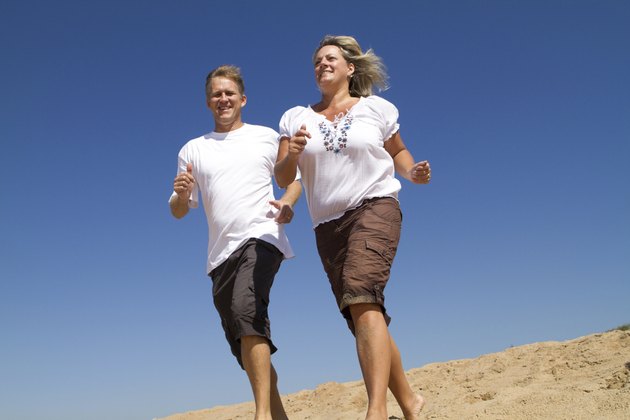 Investing in good-quality walking shoes ensures a comfortable day running errands, exercising or taking a stroll in the park. Shoes protect your feet and help improve posture, making them a worthwhile piece of equipment to invest in, especially if you wear the same pair all day. Finding the proper shoe for you and your needs requires a bit of research, time and money. A few shoe brands and models distinguish themselves from others in terms of comfort and quality.
Foot Shape and Size
Consider the width, length and arch of your feet when buying a pair of walking shoes. Shoes that are too wide or narrow can lead to calluses or blisters. Depending on the height of your arches, you may need a shoe that provides more motion control or cushioning. If you have low arches, for example, you may have less stability, so you will need a shoe that provides motion control, cushioning and support, such as the Brooks Addiction Walker. Determine your arch type by looking at your footprint after showering or swimming. Low arches, or flat feet, will create a wider, full footprint, while high-arched feet will create a very narrow footprint. Neutral-arched feet will create a footprint that is in between.
Cushioning and Support
A shoe with ample cushioning will absorb the impact on the joints of your knees and ankles. "Consumer Reports" lists Asics, Brooks, New Balance and Nike as the best brands for walking shoes. These models offer stability, motion control and cushioning. The Nike Lunar +3, for example, provides a strap located at the middle of the foot which tightens laces by pulling from the shoe bottom, not just the sides, aiding in stability and delivering a custom fit.
Breathability and Durability
Walking shoes made with a leather, mesh or synthetic upper hold your foot in place; the mesh upper allows for better ventilation and makes walking shoes lightweight. Outsoles, or the bottom of the shoe, made of high-density rubber increase the durability of your walking shoe. The outsole should also have treads and grooves on it, which will help you maintain traction when walking.
Shopping Considerations
When you go shopping for walking shoes, bring along your regular exercise socks and any insoles you wear. Your feet are larger later in the day due to water retention which occurs from being upright. Whether you stand, walk or sit during the day, shop in the afternoon or evening to ensure a proper fit. Have your feet measured by a professional fitter to confirm your foot size. There should be a half-inch between your big toe and the end of the shoe, and the width of the shoe should be snug but not tight. Walk around in the shoes at the store for 10 to 15 minutes before buying them; the shoes should feel comfortable right away.