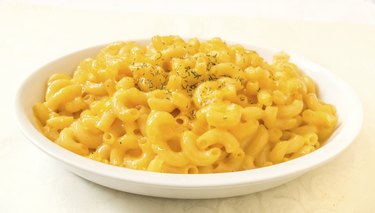 Easy Mac, a product of Kraft Foods, comes with a cup and a single serving of pasta and cheese sauce to which you add water and microwave. While the product may be convenient and quick to prepare, it contains additives that provide no nutritional advantage over traditional macaroni and cheese.
Serving Size and Varieties
A single serving of Kraft Easy Mac equals 58 g, and comes in a variety of flavors. Each flavor including, Original, Alfredo, Triple-Cheese, Bacon, Cheesy Taco and White Cheddar and Cheesy Pizza, takes approximately three to five minutes to prepare.
Nutrition Facts
One ¾-cup serving of Kraft Easy Mac has 230 calories, with 35 calories from fat. One serving has 4 g of fat, 2 g of saturated fat, 5 mg of cholesterol, 550 mg of sodium, 42 g of carbohydrates, 1 g of dietary fiber, 5 g of sugars, and 7 g of protein. One serving of Kraft Easy Mac Macaroni and Cheese Dinner Triple Cheese has 220 calories, 4 g of fat, 2 g of saturated fat, 5 mg of cholesterol, 660 mg of sodium, 30 total carbohydrates, 5 g of sugars and 7 g of protein. All of the flavors have similar nutritional values.
Ingredients
Easy Mac ingredients include enriched wheat flour, glycerol monosterate, niacin, iron, vitamins B1, B2 and folic acid. This product also contains cheese sauce made from whey, corn syrup, palm oil, maltodextrin, modified food starch, salt, milk fat, milk protein concentrate and calcium carbonate. Easy Mac contains less than 2 percent of medium chain triglycerides, sodium triployphosphate, whey protein concentrate, citric acid, guar gum, sodium phosphate, lactic acid, calcium phosphate, milk, apocarotenal, artificial flavor, artificial colors yellow 5 and 6, enzymes, cheese culture and natural flavor.
Additives
Glycerol monosterate, or GMS, is an emulsifier used as a thickening agent to prevent caking and as a preservative. Medium chain triglycerides, or MCTs, pass through the digestive tract without requiring bile for digestion, and used as solvents for flavors. Sodium tripolyphosphate is an inorganic compound primarily used in detergents, but also as a preservative in foods and for moisture retention. This compound is one of several on the USDAs list of "generally recognized as safe." Apocarotenal is a compound found in spinach as well as several citrus fruits. Apocarotenal has a deep orange-red color and is used primarily as a food colorant