Tums is an over-the-counter chewable tablet containing calcium carbonate. It is primarily used as an antacid to alleviate symptoms of acid-related conditions like gastroesophageal reflux disease (GERD) and peptic ulcer disease.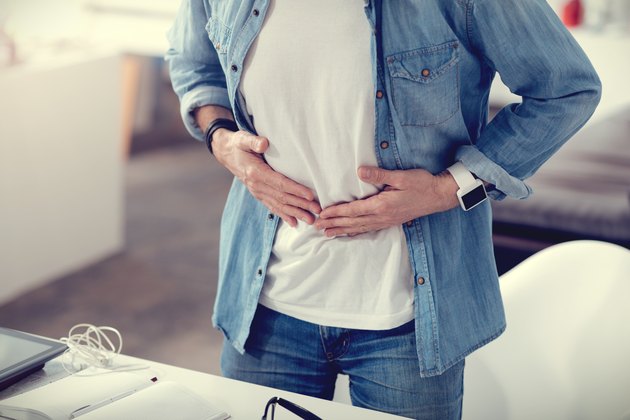 It may also be used as a source of calcium to help prevent weak bones, or osteoporosis. Consuming too many Tums may cause a number of side effects, some of which are potentially life-threatening.
Digestive Tract Effects
Eating too many Tums may irritate your digestive tract, causing nausea, vomiting, stomach discomfort and loss of appetite. Constipation is quite common with Tums.
All antacids containing calcium tend to cause constipation, while antacids containing magnesium tend to produce diarrhea. The hard or infrequent bowel movements of constipation may be accompanied by abdominal pain, cramping or bloating.
Hypercalcemia
As calcium in Tums is absorbed from the digestive tract, eating too many Tums can lead to excess calcium in the body, producing hypercalcemia. Calcium plays important roles in the function of muscles, nerves and the heart. Hypercalcemia can cause muscle twitches, muscle weakness, mood changes such as depression, confusion or even coma.
It can also lead to an irregular heartbeat or high blood pressure. High calcium levels increase urine production in the kidneys. Passing a large amount of urine can lead to dehydration, producing a dry mouth, thirst and dizziness.
Excess calcium may also accumulate in the kidney, causing stones or kidney damage. Inflammation of the pancreas — called pancreatitis — is a possible, but uncommon, side effect of hypercalcemia.
Alkalosis
Like all antacids, Tums is an alkali that neutralizes stomach acid. The carbonate part of calcium carbonate is responsible for Tums' alkali qualities. When carbonate is absorbed from the digestive tract, it causes the body to become more alkalotic — a condition known as alkalosis.
Alkalosis can cause muscle weakness and an irregular heartbeat. Severe alkalosis may reduce blood flow in the arteries feeding the heart, increasing the possibility of a heart attack, especially in people whose arteries are already narrowed because of coronary artery disease. Blood flow to the brain may also decrease, producing headaches, confusion, seizures or coma.
Warnings and Precautions
Ask your doctor if Tums are appropriate for you. Your doctor will help determine whether your symptoms are caused by an acid-related condition or another disorder such as heart disease.
Even if you have GERD or ulcers, other treatments are often preferred nowadays, including histamine-2 receptor blockers, such ranitidine (Zantac) or famotidine (Pepcid), or proton pump inhibitors, such as omeprazole (Prilosec, Losec) or lansoprazole (Prevacid).
These other medications are generally more effective and may have fewer side effects. Likewise, calcium and vitamin D supplements and calcium-rich foods are often preferred for osteoporosis prevention.
Do not use Tums beyond 2 weeks unless approved by your doctor. Follow the advice of your pharmacist or doctor about the proper dose of Tums. Contact your doctor immediately if you develop any symptoms suggesting that you may be taking too many Tums.
Reviewed and revised by Mary D. Daley, M.D.