You might not need to do the middle splits frequently in your everyday life, but having the inner-thigh flexibility for splits comes in handy during a number of pursuits, such as martial arts, dance and rock climbing. Inner-thigh flexibility can also make everyday movements like squatting down easier, and flexible, pliant muscles are less injury-prone than stiff, shortened muscles that permit only limited range of motion.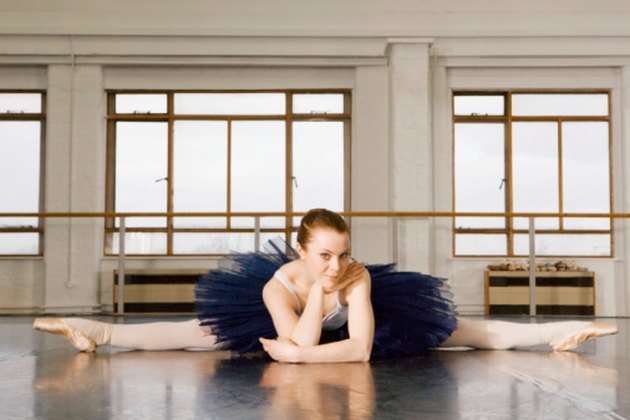 Technique
Even though you're working toward a specific flexibility goal -- in this case, middle splits -- you should still follow the basic rules of stretching. Stretch to the point of muscular tension, not pain, and don't bounce. Instead, hold the stretch for 15 to 30 seconds as you continue breathing normally. Plan to repeat each stretch three to five times, and always warm up before stretching. Or you can work your stretching routine into the end of your workout when your muscles are already warm.
Side Lunges
Side lunges are a strength-training exercise that works your hip adductors, the inner-thigh muscles whose flexibility, or lack thereof, most affects your ability to do middle splits. You should always keep your strength-training and stretching activities separate, because stretching under heavy load could lead to injury. To use side lunges as a stretch, stand with your feet shoulder-width apart. Step your left leg straight out to the side, with toes and knee still pointing straight or nearly straight forward, and sink down in a squat on your left leg. Keep your right leg straight and continue sinking gently down until you feel a stretch in your right inner thigh. Hold, then repeat on the other side.
Standing Groin Stretch
Like side lunges, this standing groin stretch allows you to target one side of your inner thighs at a time. Position yourself near a padded bench or other sturdy support between hip- and knee-height. The more flexible you are, the higher the support should be. An adjustable-height back extension bench can act as a support. Bend your right knee and place your bent leg on the bench. Keep your pelvis in neutral position as you squat slightly on your straight leg, until you feel a stretch in the inner thigh of the raised leg. Repeat on the other side.
Seated Groin Stretch
One of the best ways to get better at middle splits is by doing them repeatedly, working within your current ability level. You can also do a more discreet and easier-to-adapt seated variation sometimes known as the butterfly. Sit down and bring the soles of both feet together in front of you, knees pointing out. Gently press down on your thighs, not your knees, until you feel a stretch in both sides of your groin. You can also hinge slightly forward from the hips for an extra stretch.